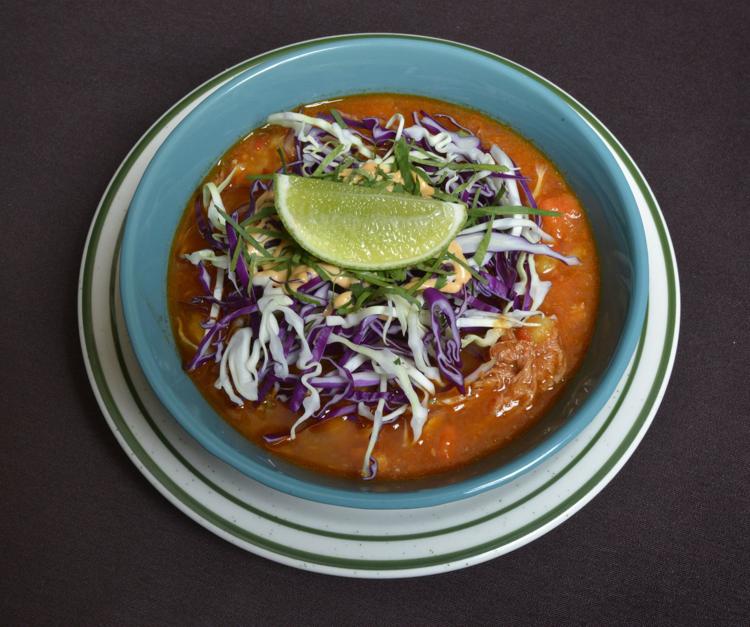 1 pork butt, about 8 or 9 pounds
1 head garlic, halved crosswise
Salt, preferably Diamond Crystal kosher salt
1 (15-ounce) can diced tomatoes
About 6 small dried chiles de árbol (see note), stems removed, seeds left in
2 tablespoons rice bran oil or another neutral oil
24 ounces canned hominy, drained
1 1/3 pork stock (plus more as needed to taste)
2 parts Hellmann's Real Mayonnaise
1 part Huy Fong's Sriracha
To serve, shredded purple and green cabbage and spicy aioli
To garnish, chopped cilantro and lime wedges
Notes: Chiles de árbol (pronounced ar-boll), are slender chiles up to about 3 inches long that ripen to a bright red color. Fresh ones are often used in colorful, prickly wreaths, dried ones for cooking. Cleveland-Heath chose this chile for its clean, neat heat and recommends using more/fewer chiles to adjust the spiciness to your own taste. I found them in the produce department at Schnucks, packaged by Frieda's, the small ones are about an inch or so long.
1. Braise the pork and make pork stock. Heat oven to 350 degrees. Place pork butt in a roasting pan with garlic and bay leaves alongside. Sprinkle generously with salt. Pour boiling water into pan, filling halfway. Cover with foil and braise in oven for 5 to 6 hours. Remove from oven and let cool. Reserve pan juices (the "pork stock") and use two forks to "pull" the pork, separating strands. Reserve 2 cups pulled pork for the pozole, use the rest for sandwiches and more.
2. Make pozole. In a blender, combine tomato and chile de arbol until smooth and the chile breaks up and "disappears."
3. Heat oil in a large, heavy-bottom pot such as a Dutch oven until shimmery, stir in onion, carrots, celery and salt and let begin to cook.
4. Stir in hominy, 1 1/3 cups pork stock and tomato-chile mixture. Bring to a boil, reduce heat to maintain a simmer and let simmer until vegetables are tender, about 30 to 40 minutes.
5. Stir in pulled pork and return to a simmer. Taste and if needed, adjust with additional pork stock and salt.
6. Make spicy aioli. While soup simmers, whisk mayonnaise and sriracha and transfer into a squeeze bottle.
7. To serve Cleveland-Heath-style, ladle 1-½ cups pozole into a bowl. Top with about a half cup of shredded cabbage and drizzle with about 1 tablespoon spicy aioli. Garnish with cilantro and a lime wedge.
Per serving (based on 6): 488 calories; 33g fat; 9g saturated fat; 85mg cholesterol; 24g protein; 24g carbohydrate; 8g sugar; 6g fiber; 531mg sodium; 95mg calcium
Recipe adapted for home kitchens by the Post-Dispatch.