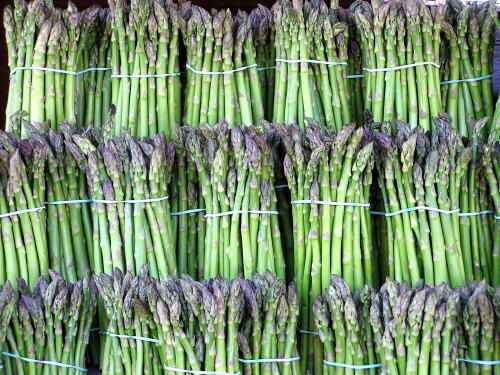 16 medium-size asparagus spears, trimmed and cut into 1-inch pieces
6 tablespoons (¾ stick) butter, divided
16 medium-size green onions, cut into 1-inch pieces
4 tablespoons all-purpose flour
4 tablespoons coarsely chopped fresh tarragon, divided, or 2 tablespoons dried
Freshly ground black pepper
1. Bring the stock to a simmer in a large saucepan over medium-high heat. Add the asparagus and simmer until just tender, about 5 minutes. Remove the asparagus with a slotted spoon and set it aside in a bowl. Leave the stock in the pan and set it aside.
2. Melt 2 tablespoons of the butter in a large skillet over medium heat. Add the green onions and sauté, stirring frequently, until soft and golden, about 5 minutes. Add the scallions to the asparagus.
3. Melt the remaining 4 tablespoons of butter in the skillet over medium-low heat. Add the flour and stir vigorously to form a roux. Cook, stirring constantly, until the flour loses its raw taste but does not brown, about 2 minutes.
4. Pour about half of the stock into the skillet and whisk or stir vigorously until the mixture is thickened and smooth. Pour this into the remaining stock in the saucepan, stirring to incorporate.
5. Add the asparagus and the green onions and stir to combine.
6. Stir in the cream, 3 tablespoons of the fresh tarragon (or all of the dried tarragon) and black pepper to taste. Heat the soup to a low simmer and remove the pan from the heat.
7. Taste and salt as needed. Serve hot, sprinkled with remaining fresh tarragon if using fresh.
Variation: Purée the soup at the end, working in batches if necessary. Top with a dollop of crème fraîche or sour cream.
Per serving: 630 calories; 54g fat; 32g saturated fat; 175mg cholesterol; 12g protein; 25g carbohydrate; 7g sugar; 3g fiber; 390mg sodium; 140mg calcium.
Adapted from "The Four Season Farm Gardener's Cookbook," by Barbara Damrosch and Eliot Coleman