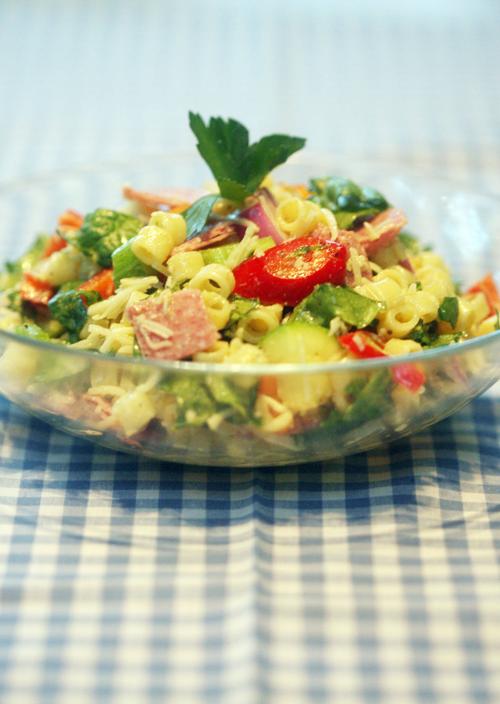 2 cups cubed provolone or shredded Italian cheese blend
1 medium red onion, diced
1 cup chopped red, yellow or orange bell peppers
1/4 cup chopped flat-leaf parsley
1 cup seeded and diced cucumber
1/3 pound cubed salami or cooked chicken
2 teaspoons granulated sugar
Freshly ground black pepper
1. Cook pasta according to package directions. Drain, then spread it out on a baking sheet for 30 minutes.
2. In a large serving bowl, combine pasta, cheese, romaine, red onion, bell peppers, parsley, cucumber and meat.
3. Place shallots and garlic in a blender or food processor. Pulse several times to chop. Add mustard, vinegar and sugar. Pulse to combine. With the blender or processor running, slowly add oil in a steady stream; process until emulsified. Taste and adjust seasonings and ingredients as necessary. Add salt and pepper to taste.
4. Pour the dressing over the salad and toss to combine.
Per serving: 290 calories; 16g fat; 5g saturated fat; 21mg cholesterol; 11g protein; 27g carbohydrate; 2g fiber; 525mg sodium.