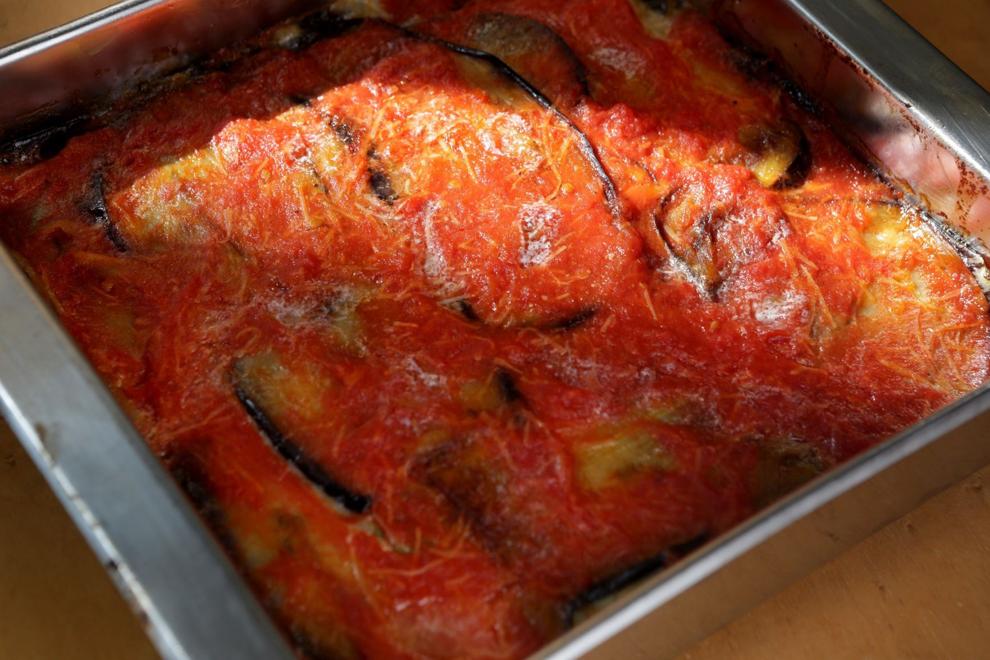 1½ eggplants, cut lengthwise into ¼-inch slices
4 tomatoes, peeled, seeded and diced
Pinch of granulated sugar
2/3 cup grated Parmesan cheese
3½ ounces mozzarella cheese, sliced thin
1. Place the eggplant slices in a colander, sprinkle with salt and let drain about 1 hour. Meanwhile, put the tomatoes and 4 to 5 basil leaves in a pan, season with salt and pepper and a pinch of sugar to taste, and cook over high heat, stirring frequently, for 15 to 20 minutes. This will yield 1 cup of tomato sauce.
2. Preheat the oven to 350 degrees.
3. Rinse the eggplant slices and pat dry. Heat 1/3 of the oil in a skillet, add 1/3 of the eggplant slices and fry until golden on both sides. Remove with a slotted spatula and drain on paper towels. Repeat twice again with the remaining oil and eggplant slices.
4. Spoon ¼ cup of the tomato sauce into an 8-by-8-inch ovenproof dish and arrange a layer of slightly overlapping eggplant slices on top. Sprinkle with a little of the Parmesan, cover with a few slices of the mozzarella; sprinkle a few basil leaves and 2 tablespoons of the beaten eggs on top. Season lightly with salt and pepper.
5. Continue making layers until all the ingredients are used, ending with a layer of sliced eggplant, sprinkled Parmesan and tomato sauce. Dot with the butter and bake 30 minutes. This dish is also good served cold.
Per serving: 614 calories; 55g fat; 15g saturated fat; 138mg cholesterol; 17g protein; 19g carbohydrate; 12g sugar; 8g fiber; 1,018mg sodium; 340mg calcium
Recipe from "The Silver Spoon"