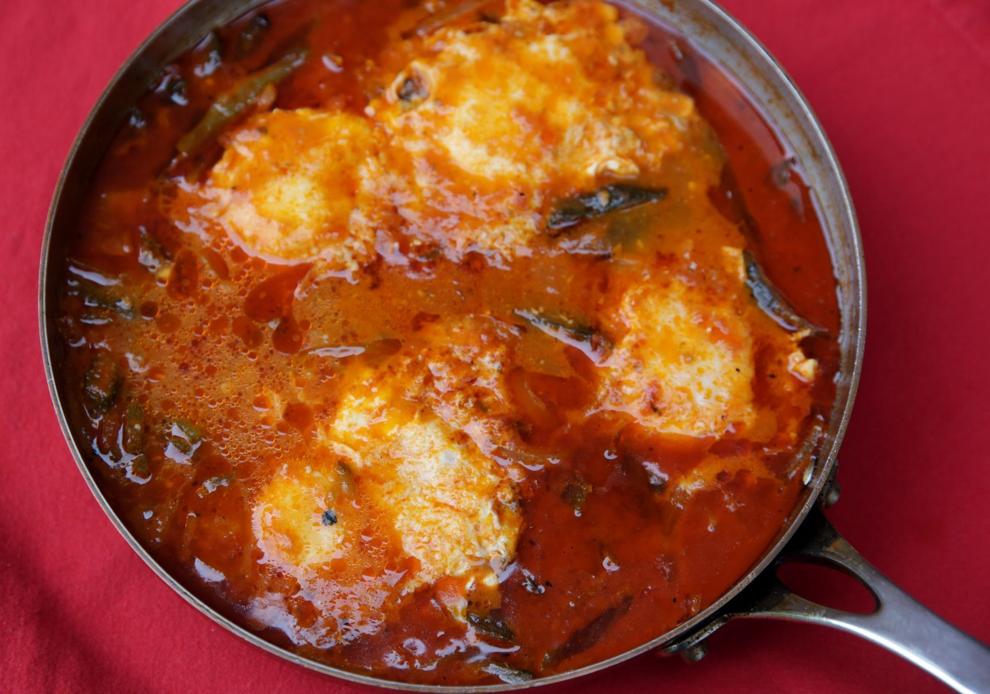 1½ cups thinly sliced white onion
Note: The sauce can be made well ahead of time and can even be frozen.
1. Leave the stems, if any, on the poblanos. Place directly over the open flame of a gas stove or a wood or charcoal grill. If using electricity, smear the chiles with a light coating of oil and place them directly under the broiler. Turn the chiles from time to time to allow the skin to blister and char lightly all over. Do not allow the flesh to be burnt through.
2. Place charred poblanos immediately into a plastic bag and leave them to steam for about 10 minutes. This helps to loosen the skin. The skin can now be slipped off easily with your hands; this should be done over a strainer, because the little pieces are tough and can block a sink drain. Rinse the chiles briefly, but do not soak in water. Remove stems and seeds and slice chiles into narrow strips.
3. Rinse tomatoes and place on a hot, ungreased pan or griddle over medium heat. Cook, turning occasionally, until soft all the way through and the skin is lightly charred. Or, cook tomatoes about 3 inches under a broiler, turning once, until mushy and slightly charred.
4. Heat the oil in a large skillet and cook the onion until translucent, about 2 minutes. Add the chile strips to the pan and let them cook for about 3 minutes, stirring frequently to avoid sticking.
5. Process the broiled tomatoes in a blender or a few seconds — do not overblend — and add them to the onion-chile mixture. The sauce should have some texture. Let it cook over fairly high heat for about 10 minutes, or until the sauce is well seasoned and has somewhat reduced. Add the water and salt and continue cooking for a minute or so more.
6. Crack the eggs, one at a time, into the hot broth. Arrange the slices of cheese on top. Cover with a lid and let the eggs poach very gently until set, 3 or 3½ minutes.
Per serving: 363 calories; 28g fat; 16g saturated fat; 347mg cholesterol; 18g protein; 12g carbohydrate; 7g sugar; 3g fiber; 373mg sodium; 236mg calcium
Recipe from "The Essential Cuisines of Mexico" by Diana Kennedy