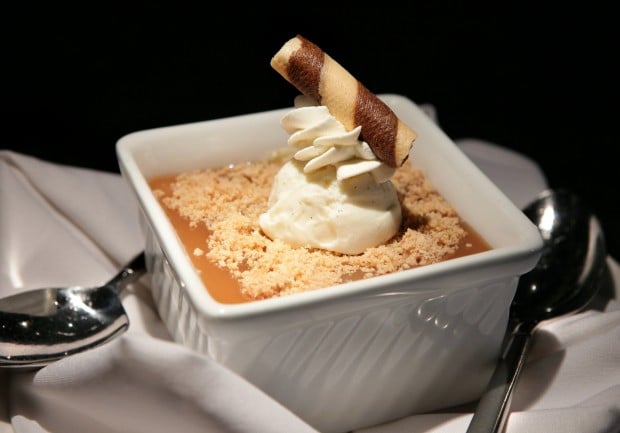 1 cup graham cracker crumbs
¼ cup (½ stick) butter, melted
2 tablespoons toasted, chopped cashews
21 ounces cream cheese, room temperature
1½ cups (3 sticks) butter, very soft
1 1/3 cups powdered sugar
For bourbon caramel sauce:
Piroulines (cigarette cookies)
1. Make crust and topping. Heat oven to 350 degrees. In a large bowl, combine graham cracker crumbs, brown sugar and butter. Reserve half for topping. With remainder, press mixture into 8 1½-cup ramekins. Bake for 5 to 8 minutes or until golden.
2. Make gooey butter. In a large bowl, combine cream cheese and butter with an electric mixer until very smooth. Add eggs, powdered sugar, salt and vanilla and mix until lump-free. Spoon batter into dishes, filling half-inch from top. Arrange ramekins on a sheet pan, fill with hot tap water. Bake for 30 minutes, rotate pan and bake another 30 minutes. Let cool, cover and refrigerate until ready to serve.
3. Make bourbon caramel sauce. In a large heavy skillet, bring butter and brown sugar to a boil, working out any lumps. Remove from heat, stir in cream and bourbon (it will bubble up). Let cool, cover and refrigerate until ready to serve. Makes about 1 cup.
4. To serve, heat oven to 325 degrees. Reheat gooey butter for 5 minutes or until warm through the center. Reheat caramel sauce in a saucepan until hot.
5. To serve Gentelin's on Broadway-style, pool hot caramel over warm gooey butter. Sprinkle with reserved crumb topping, top with a small scoop of ice cream, half a pirouline and a dollop of whipped cream.
Notes: Gentelin's on Broadway serves its Warm Gooey Butter Cake with house-made vanilla bean ice cream and whipped cream.
Per serving: 1,030 calories; 81g fat; 48g saturated fat; 295mg cholesterol; 9g protein; 66g carbohydrate; 59g sugar; no fiber; 560mg sodium; 140mg calcium.
Recipe adapted for home kitchens by the Post-Dispatch.