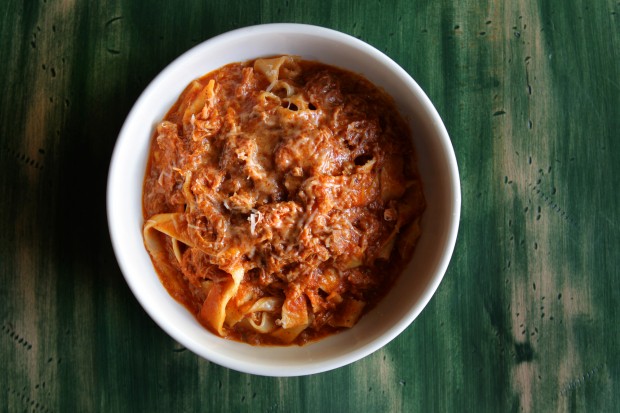 1 slab pork spare ribs (about 4 pounds)
1 small onion, chopped fine
2 (32-ounce) cans whole, peeled tomatoes (see note)
3 pounds pappardelle pasta, cooked (see note)
1/2 cup white truffle oil
1 cup shredded pecorino Romano cheese
1. Remove silverskin from ribs. Cut between the bones to separate into individual ribs.
2. In a very large heavy pot (see tester's note), heat olive oil on medium until shimmery, then gently cook onion, garlic and basil. Add ribs a few at a time, without crowding; brown the ribs, turning occasionally. Add wine and scrape the bottom of the pan to loosen the browned bits. Increase heat to medium-high and boil rapidly until wine is reduced by half.
3. In a blender, purée tomatoes until smooth, then press through a strainer to remove the seeds. Stir tomato purée into the pot. Bring to a simmer, then reduce heat and simmer gently until meat can be easily removed from the bones, about 90 minutes.
4. With tongs, remove ribs from sauce and arrange in a single layer on a sheet pan. When cool enough to handle, pull meat off the bones; discard bones and cartilage. Shred meat by hand, then return to the sauce. Heat sauce until it reaches serving temperature.
5. Toss sauce with cooked pasta and arrange on plates or in shallow bowls. Drizzle each serving with 1 tablespoon truffle oil; sprinkle with 2 tablespoons cheese.
Per serving: 1,015 calories; 41g fat; 10g saturated fat; 55mg cholesterol; 34g protein; 127g carbohydrate; 7g sugar; 4g fiber; 335mg sodium; 150mg calcium.
Notes: For tomatoes, Mad Tomato uses Stanislaus Alta Cucina "Naturale" Style Plum Tomatoes, which may be purchased online. Home cooks can substitute sweet and meaty San Marzano canned tomatoes or any other good whole canned tomato. For pasta, Mad Tomato uses house-made pappardelle made with a custom blend of high-protein flour, semolina and water. Home cooks can substitute a wide, flat homemade or fresh fettucine. The chef's favorite brand of dried pasta is DeCecco. If you are not serving the full recipe of sauce, use 6 ounces of pasta per serving.
Tester's note: The spare ribs are bulky; I needed to use two Dutch ovens.
Recipe adapted for home kitchens by the Post-Dispatch.