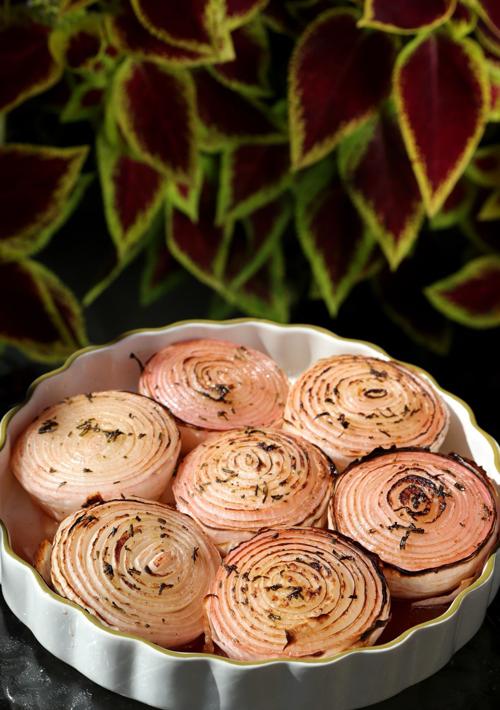 2 tablespoons brown sugar
2 teaspoons chopped fresh rosemary, divided
Pinch crushed red pepper, optional
4 large white or yellow onions
4 tablespoons (½ stick) butter
1. In a small bowl, blend water, vinegar, brown sugar, 1 teaspoon of the chopped rosemary, salt, pepper and optional red pepper. Cut onions in half horizontally and trim both ends, but leave the skin on (it will help hold the onions together as they roast). Pour the marinade into a baking dish that is large enough to hold all 8 onion halves, and place the onions into the dish, cut-side down. Cover with plastic wrap and refrigerate overnight.
2. Preheat oven to 400 degrees.
3. Flip the onions over in the marinade so the wide sides are facing up. Top each onion half with ½ tablespoon of butter and sprinkle with the remaining 1 teaspoon of chopped rosemary.
4. Roast until golden brown, about 1 hour, basting with the marinade once or twice. Remove from heat and sprinkle with the sauce. Remember to remove the outer skins before serving.
Per serving: 90 calories; 6g fat; 4g saturated fat; 15mg cholesterol; 8g carbohydrates; 8g protein; 5g sugar; 1g fiber; 203mg sodium; 19mg calcium
Satisfy your cravings
With our weekly newsletter packed with the latest in everything food.