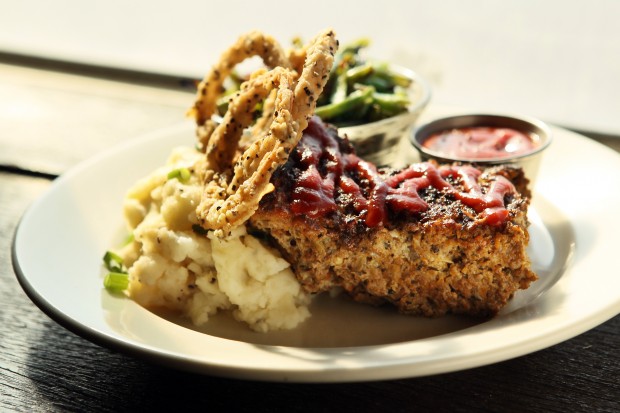 1/4 cup rendered bacon fat
2 ribs celery, chopped fine
2 tablespoons dried thyme
1 tablespoon ground red (cayenne) pepper
4 1/2 teaspoons ground black pepper
2 tablespoons plus 2 teaspoons yellow mustard
2 tablespoons plus 2 teaspoons Worcestershire
2 tablespoons sriracha sauce (see notes)
3/4 cup bread crumbs (see notes)
2 1/2 pounds ground beef (80 percent fat)
Bourbon ketchup (see note)
1. Preheat the oven to 300 degrees. Butter a 9-by-9 baking pan or a 9-inch pie plate. Line with parchment paper; butter the parchment.
2. In a large skillet, heat bacon fat until shimmery. Stir in onion, carrot and celery; sauté until vegetables are well-cooked and the fat has been fully absorbed. Add thyme, cayenne, salt, black pepper, cream, ketchup, mustard, Worcestershire and sriracha; simmer for 5 minutes. Remove from heat and stir in bread crumbs. Let cool completely.
3. With your hands, break up ground beef into small pieces, then work in eggs and vegetable mixture. Do not overmix. Pack mixture into pan and press to remove air pockets.
4. Cover with foil and bake for 1 hour and 15 minutes. Uncover and bake for another 15 minutes or until top is crispy brown.
5. Let cool slightly, then cut into serving pieces. Serve meatloaf drizzled with bourbon ketchup.
Per serving: 615 calories; 44g fat; 18g saturated fat; 260mg cholesterol; 38g protein; 17g carbohydrate; 7g sugar; 2.5g fiber; 2,500mg sodium; 130mg calcium.
• Sriracha (pronounced SIR-rotch-ah) is sometimes called "rooster hot sauce" for the rooster on the label of the brand most available in the United States, Huy Fong. It packs plenty of heat; use less (or none at all) for a less-spicy meatloaf.
• For bread crumbs, bake four or five thin slices of French bread in a 300-degree oven for 5 to 10 minutes, then break into small pieces with your hands.
• To make bourbon ketchup, stir together 1 cup ketchup and 1 tablespoon bourbon.
• Recipe may be doubled; bake in an 11-by-7-inch baking dish.
Recipe adapted for home kitchens by the Post-Dispatch