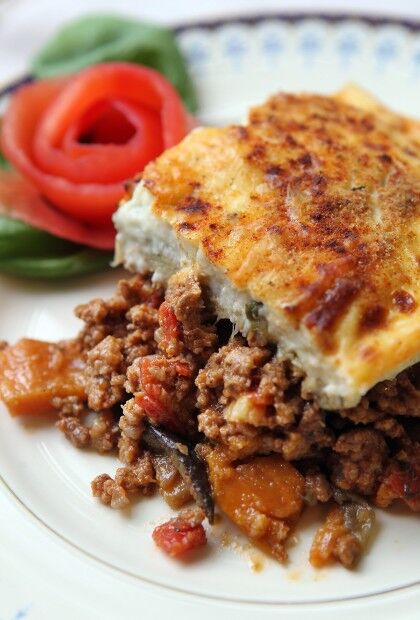 ½ cup bread crumbs, divided
3 tablespoons olive oil, plus more for grilling
1 large onion, finely chopped
2 garlic cloves, finely chopped
3 pounds ground lamb or beef
1 (14 ounce) can chopped tomatoes
1 (8-ounce) can tomato sauce
Freshly ground black pepper
2 tablespoons chopped fresh parsley
1 tablespoon dried Greek oregano
1 tablespoon ground cinnamon
1½ cups mizithra or Parmesan cheese, divided
4 cups whole or 2 percent milk, warmed
3 large egg yolks, slightly beaten
Paprika (to sprinkle on top)
1. Spray 9-by-13-inch baking pan with olive oil, sprinkle with ¼ cup bread crumbs and set aside. Preheat oven to 350 degrees and prepare a grill or broiler.
2. Peel eggplant and slice them lengthwise into ¼-inch-thick slices. Sprinkle the slices with salt and let stand for about 30 minutes to remove the bitter taste. Rinse them in cold water and pat dry.
3. Slice the zucchini lengthwise into ¼-inch-thick slices, then rinse them in cold water and pat dry.
4. Peel the potatoes, cut them into discs and place in a bowl of cold water. Pat them dry when ready to use.
5. Brush the eggplant slices with olive oil coating them well, and place them either on the grill or under the broiler to brown. Once they have browned, set them aside. Repeat the process with the zucchini and the potatoes.
6. In a large skillet, sauté the onions and garlic in 3 tablespoons of olive oil until tender, then remove to a bowl. Add the ground lamb or ground beef to the skillet and brown well. Drain fat from the skillet.
7. Stir the chopped tomatoes, tomato sauce, sautéed onion and garlic, salt to taste, pepper, parsley, cinnamon and oregano into the meat. Simmer the meat mixture uncovered for 15 to 20 minutes, then remove from the heat. Stir in ½ cup mizithra cheese.
8. Make cream sauce: Melt the butter in a medium saucepan and whisk in the flour. Gradually add the warm milk, stirring constantly until the mixture slightly thickens. Reserve a little of the warm milk to mix with the egg yolks so that they are tempered before adding them to the sauce. Slowly add the tempered egg yolks and cook until the sauce is thickened. Remove from the heat and add the salt, pepper and nutmeg.
9. To assemble the moussaka, place a layer of cooked potatoes in greased 9-by-13-inch baking pan, followed by a layer of cooked eggplant. Spoon the meat mixture on top of the eggplant. Place a layer of cooked zucchini on top of meat, and if you have more eggplant, place a layer on top of zucchini.
10. Sprinkle with ½ cup mizithra cheese, then ladle cream sauce on top of the cheese. Sprinkle with rest of the cheese, ¼ cup bread crumbs and paprika to taste.
11. Bake for 50 minutes or until the top is golden brown. Cool for at least 15 minutes before cutting into squares and serving.
Per serving: 415 calories; 25g fat; 12g saturated fat; 120mg cholesterol; 23g protein; 24g carbohydrate; 7g sugar; 4g fiber; 500mg sodium; 210mg calcium.