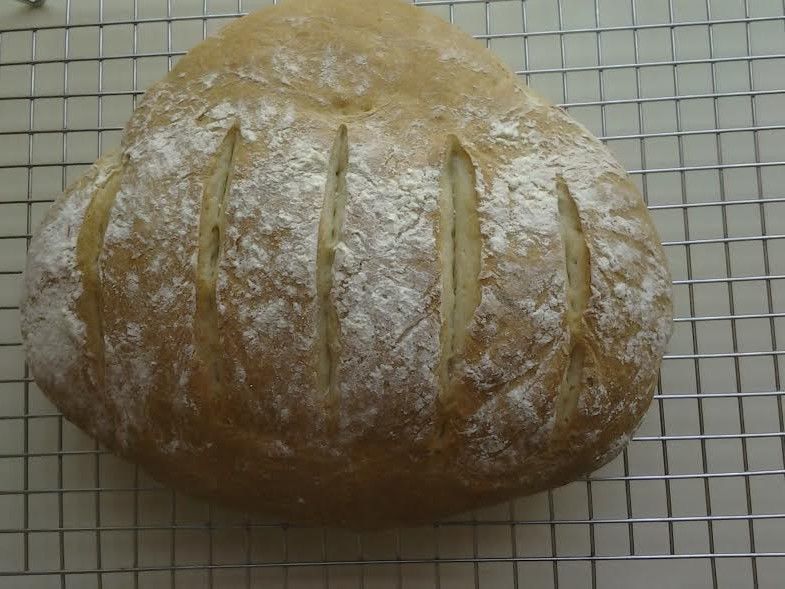 1½ cups warm water (105 to 115 degrees)
1½ tablespoons (2 packets) active dry yeast
1 tablespoon granulated sugar or honey
3½ to 4½ cups all-purpose flour
1. In a large bowl, combine water, sugar and yeast. Whisk or stir with a fork. Allow to sit 5 to 10 minutes, until the top becomes frothy.
2. In a separate bowl, stir together the 3 ½ cups of flour and salt. Slowly add flour mixture to the yeast and water, stirring with a fork until it begins to form a stiff dough. Knead by hand, adding additional flour as necessary, until the dough is smooth and no longer sticky. Form into a loaf shape and place on a greased baking sheet. Dust the top with flour and cover with a towel.
3. Immediately begin pre-heating oven to 425 degrees. Allow dough to rise while the oven comes to temperature. When the oven hits 425 degrees, cut slashes in the top of the dough and bake until done, 15 to 20 minutes. Loaf is done if it sounds hollow when you tap it on the bottom. Cool on a rack before serving.
Per serving: 142 calories; no fat; no saturated fat; no cholesterol; 4g protein; 30g carbohydrate; 1g sugar; 1g fiber; 296mg sodium; 8mg calcium.
Satisfy your cravings
With our weekly newsletter packed with the latest in everything food.