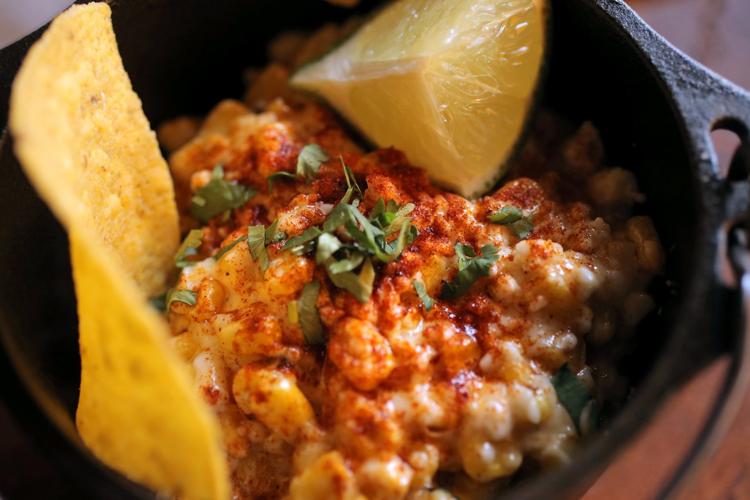 2 tablespoons unsalted butter
4 cups sweet yellow corn kernels: fresh, canned or frozen
Zest of one lime (optional)
3 tablespoons crumbled queso fresco
¼ cup chopped fresh cilantro, leaves only
Notes: This recipe works with fresh corn cut from the cob, steamed and slightly cooled, as well as with frozen or canned yellow corn kernels.
• Cooks can add or changes seasonings to personal preference, such as smoked paprika, chile powder and cumin. The flavor will vary dramatically.
• For the test, we used Irene's mayonnaise, a locally made product with a nice lemony taste.
• Cooks may also change the cheese as well, according to preference, which may include crumbles of cotija or Chihuahua cheeses.
1. Melt butter in a large 9- or 10-inch skillet over low heat. Add corn kernels, raise heat to medium low, turning occasionally, using a spatula, until the kernels are coated with butter and become fragrant.
2. Mix paprika into the mayonnaise and stir to blend until the paprika is evenly distributed.
4. Remove from heat and place corn kernels in a large bowl. Add the lime juice and zest. Stir in gently with a wooden spoon. Allow to cool to just warm.
5. Add mayonnaise and paprika mix to the bowl and turn gently with a spatula to coat.
6. Place the queso fresco in the bowl of a food processor and pulse a few times to make crumbles.
7. Fold queso fresco crumbles and chopped cilantro into corn mixture. Turn gently until combined.
8. Serve with restaurant-style tortilla chips.
Per serving (based on 4): 333 calories; 21g fat; 8g saturated fat; 37mg cholesterol; 9g protein; 32g carbohydrate; 6g sugar; 3g fiber; 563mg sodium; 157mg calcium