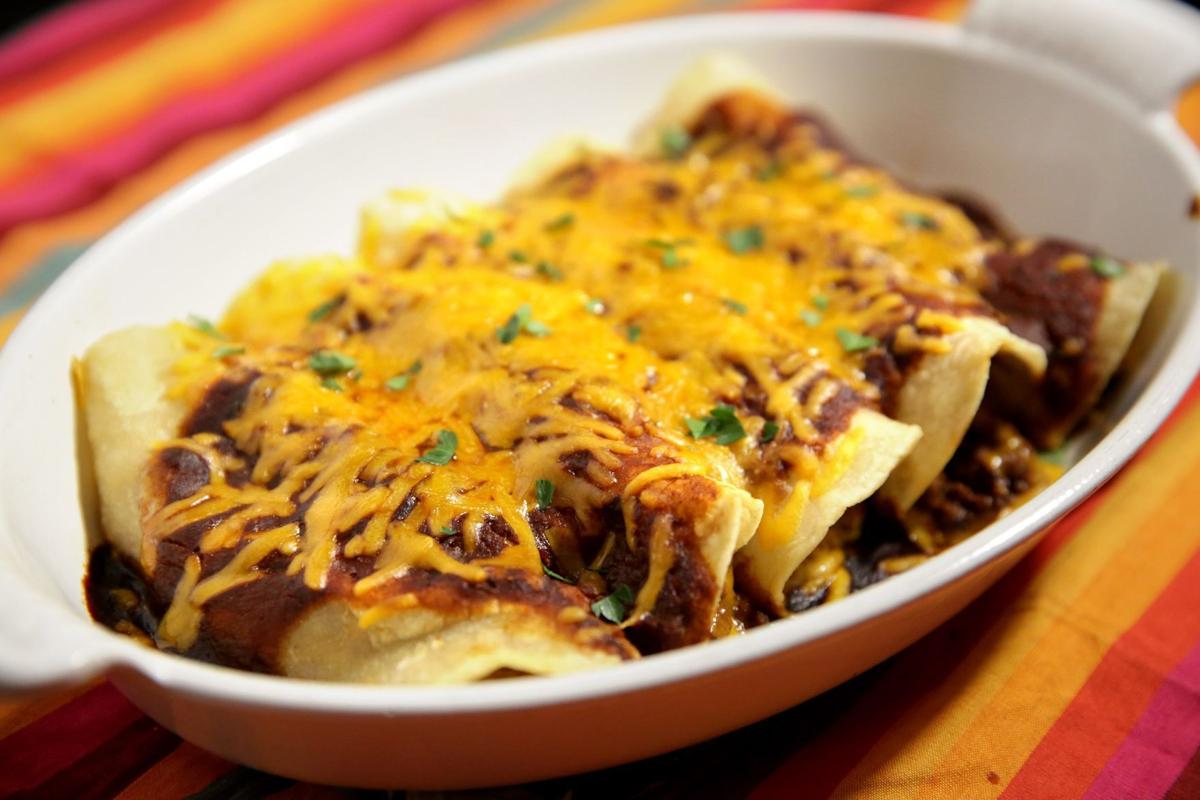 3 cups chicken stock or water, divided
3 tablespoons all-purpose flour
2 tablespoons tomato paste
¼ teaspoon salt, or more to taste
¹⁄8 teaspoon black pepper
1¼ teaspoons chili powder
¹⁄8 teaspoon garlic powder
2 tablespoons oil, divided
8 (6-inch) corn tortillas
2 cups shredded cheddar cheese
Note: The sauce, which can also be used for chicken, pork or cheese enchiladas, can be made up to three days before using. The beef can be made up to one day before using. The sauce freezes well.
1. Make the sauce: Remove the stems and seeds from the ancho chiles. Place chiles in a small pot with 2 cups of the chicken stock or water. Bring to a boil, remove from the heat and let sit 15 minutes. Place the chiles and their liquid in a blender and blend until smooth.
2. Add oil to the pot over medium-high heat. When hot, add flour; stirring constantly, cook 1 minute. Add ½ cup of the remaining stock or water, stirring until smooth. Add the blended chile mixture, tomato paste, onion powder, garlic powder, cumin, paprika, oregano, sugar, salt and pepper. Cook 2 minutes, stirring occasionally. Sauce should be a little thinner than ketchup; if too thick, add remaining ½ cup of stock or water. Taste and adjust seasonings, including sugar if more than a little bitter. Refrigerate or set aside.
3. Make the filling: Heat ground beef in a large skillet over medium-high heat, using a wooden spoon to break it up as it cooks. Sprinkle with liberal amounts of salt and pepper, and add chili powder, cumin, onion powder, garlic powder and oregano. Cook, stirring frequently, until thoroughly browned.
4. Remove from heat and stir in ¾ cup of the sauce. Refrigerate up to 1 day if not using immediately.
5. Assemble the enchiladas: Preheat oven to 350 degrees. Put 1 tablespoon of the oil into a skillet over medium-high heat. When hot, place 1 tortilla in the oil and cook until tortilla starts to bubble, about 10 seconds. Flip and cook on other side for 10 seconds (this step makes the tortillas pliable and will keep the sauce from soaking through). Remove with tongs, shaking excess oil back into pan, and drain on paper towels.
6. Repeat with remaining tortillas, adding remaining oil to skillet when necessary.
7. Spread ½ cup of sauce on bottom of 9-by-13-inch baking pan.
8. Place 1½ tablespoons of the cheese down the center of 1 of the tortillas, and ¹⁄³ cup of beef on top of that. Roll tortilla into a cylinder and place seam-side down into baking pan. Repeat with remaining tortillas.
9. Pour remaining sauce over enchiladas; you may not want to use all of the sauce. Sprinkle evenly with the remaining cheese. Bake 15 to 20 minutes, until cheese is melted and sauce is bubbling.
Per serving: 913 calories; 61g fat; 22g saturated fat; 142mg cholesterol; 44g protein; 51g carbohydrate; 5g sugar; 9g fiber; 1,500mg sodium; 508mg calcium