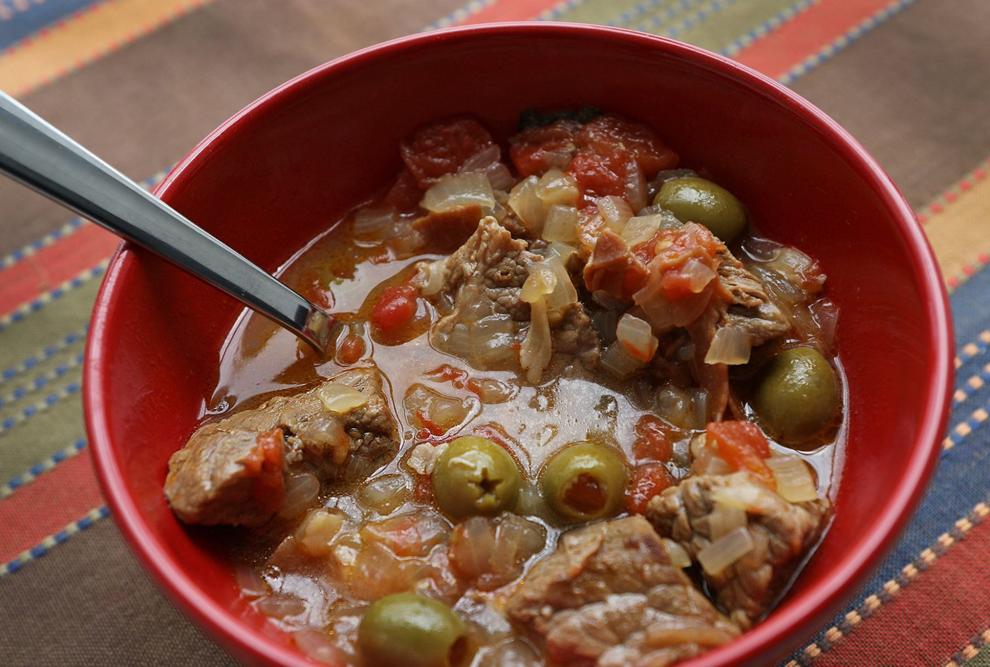 1 cup neutral-flavored oil
3¼ pounds stewing beef, such as chuck, flank, rump or brisket, cut into chunks
2 large onions, finely chopped
2 tablespoons all-purpose flour
1 pound, 2 ounces very ripe tomatoes, or 1 (28-ounce) can whole tomatoes (without their juice), peeled and chopped
1 cup chopped Serrano ham or prosciutto
Pinch of mixed dry herbs or 1 bouquet garni (1 sprig fresh parsley, 1 clove garlic and 1 bay leaf tied in cheesecloth)
1 cup pimento-stuffed green olives
1. Heat the oil in a pan. Add the beef, in batches if necessary, and cook, stirring occasionally, for about 10 minutes, until evenly browned. Remove with a slotted spoon and set aside. Drain off most of the oil, leaving about 4 tablespoons to cover the base of the pan, and reheat.
2. Add the onions and cook over low heat, stirring occasionally, for about 8 minutes, until beginning to brown. Stir in the flour and cook, stirring constantly, for 2 minutes. Add the tomato and cook, stirring occasionally and breaking it up with the side of the spoon, for 5 minutes more.
3. Return the beef to the pan, add the ham and pour in the wine. Season with salt, add the dried herbs or bouquet garni, mix well and cook for about 5 minutes. Pour in water to cover, cover the pan and simmer over medium heat for about 2 hours, until meat is tender.
4. Meanwhile, put the olives in a pan, add water to cover and bring to a boil; then lower the heat and simmer for 1 minute. Drain well and set aside. Uncover the stew, stir in the olives and cook, uncovered, for 10 minutes more. Remove the bouquet garni, if used.
Per serving: 541 calories; 39g fat; 13g saturated fat; 128mg cholesterol; 34g protein; 6g carbohydrate; 2g sugar; 1g fiber; 534mg sodium; 36mg calcium
Recipe from "1080 Recipes," by Simone and Inés Ortega