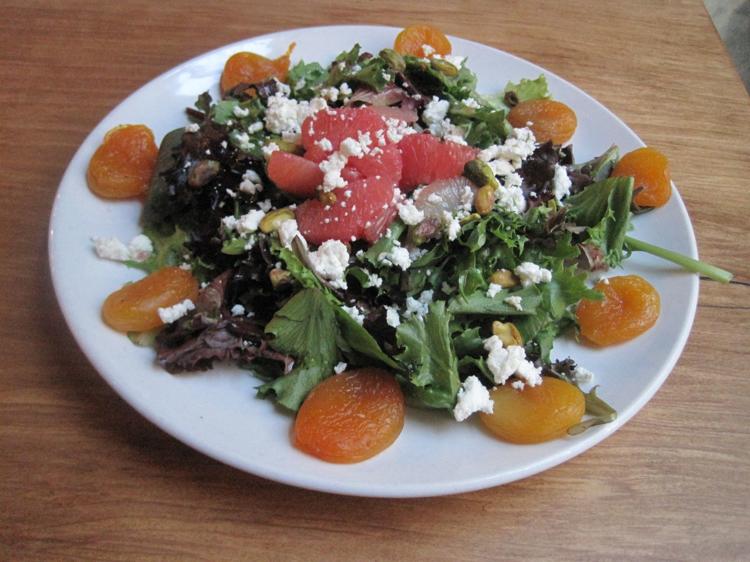 ½ cup dried apricots, whole or rough chopped
½ cup riesling wine or apple cider
8 cups mixed baby salad greens
8 tablespoons roughly chopped pistachios
6 ounces chevre goat's cheese
¼ cup white balsamic vinegar
1/8 teaspoon prepared Dijon mustard
2 tablespoons granulated sugar or honey
¾ teaspoon fresh garlic, peeled and chopped fine
Notes: The poached dried apricots may be prepared a day in advance. They should be covered and refrigerated.
• The dressing may be mixed ahead of time and refrigerated but should be returned to room temperature when ready to use. It may need to be whisked or shaken again before use.
• The grapefruit should be prepared using a technique called supreming, which removes the membrane from the fruit so it is served in glistening slices that are easily eaten.
• This composed salad is easiest to make if you use the mise en place technique of premeasuring each ingredient, except for the goat cheese, so they are ready to assemble on each serving plate.
1. Combine the wine or the apple cider with the apricots in a small, shallow saucepan with a tight-fitting lid. Bring the mixture to a boil over medium-high heat. Reduce heat, cover and cook gently until the liquid evaporates, stirring occasionally. Set aside and allow to cool. When cooled, slice into thick ribbons.
2. To supreme the grapefruit, follow these steps. Using a very sharp knife, slice the ends from the fruit and set the flat ends on a cutting board. Remove the peel and the pith by cutting it away in sections with the knife, following the globular shape of the grapefruit. Turn the fruit on its side and slice into the center following a membrane, then cut into the center on the adjoining membrane to release the supreme. Place it in a small mixing bowl and repeat around the grapefruit, releasing each section. Hold the membrane over the bowl and squeeze it to remove the juice. Reserve.
3. Place two generous handfuls of greens on each plate. Divide and place the segments on each plate in a pleasing pattern. Scatter poached apricots over each. Divide the chevre log into 4 parts, then pinch pieces of goat cheese, and place randomly on salads.
4. Prepare the dressing. Combine olive oil, vinegar, Dijon mustard, sugar or honey and garlic and whisk or blend until emulsified. Dress each salad and serve.
Per serving: 572 calories; 45g fat; 11g saturated fat; 20mg cholesterol; 13g protein; 35g carbohydrate; 19g sugar; 6g fiber; 207mg sodium; 134mg calcium
Bridge Taproom and Wine Bar Grapefruit Salad