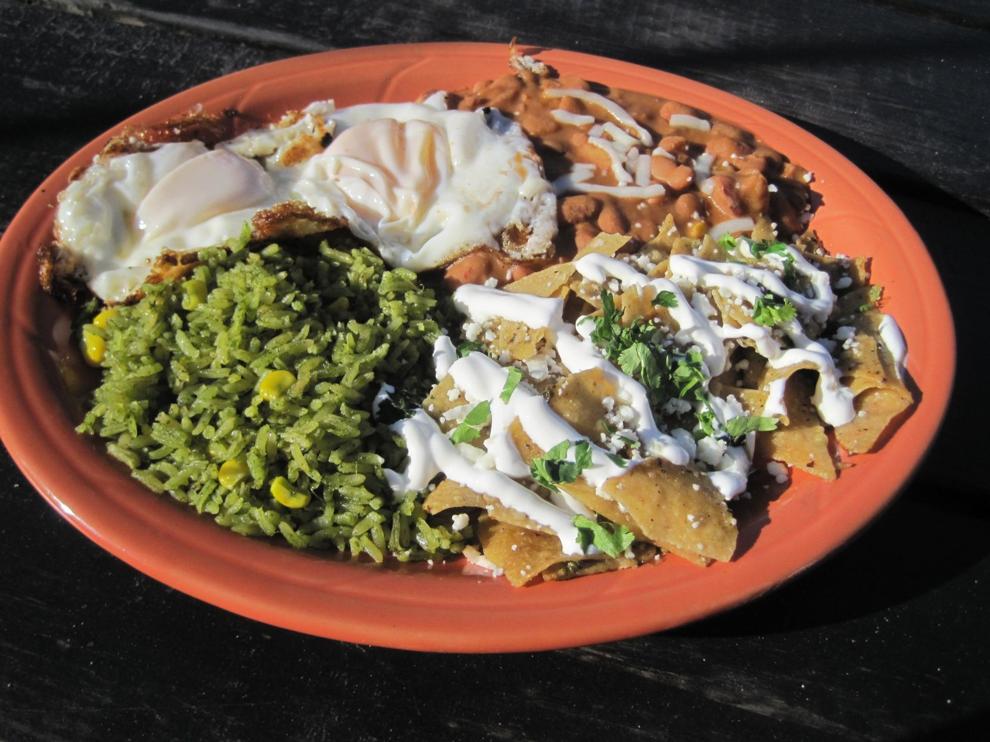 3 (6-inch) corn tortillas
3 tablespoons vegetable oil
1 tablespoon unsalted butter
½ cup pinto beans, warmed
½ cup cilantro rice, warmed
1 ½ tablespoons Mexican crema
1 ½ tablespoons queso fresco Mexican cheese, crumbled
Notes: The corn tortillas for this dish can be a little stale. This is one of the classic uses for day-old tortillas.
• Mexican crema and queso fresco cheese are available at most major supermarkets as well at international and Mexican food stores.
1. Cut the tortillas into random pieces about 1 to 1¼ inches long and wide. They should be bite-sized, cut in triangles and squares.
2. Heat the oil in an 8-inch skillet over medium-high heat until it sizzles. Add the tortilla pieces and allow them to crisp up, turning as needed with a spatula. Seasoned cast iron or nonstick works well for this step.
3. Begin heating a second skillet big enough to cook two eggs sunny side up or over easy.
4. When the pieces have been crisped, add the salsa to the skillet in two additions. There should be a nice coating on the pieces. The salsa should look like dressing on the tortillas.
5. Add butter to the second skillet, allow it to melt and heat through, then break the eggs into the pan and cook either sunny side up or over easy. The egg yolk should be able to run over the dish.
6. Place the warm chilaquiles on a plate. Place warmed pinto beans and cilantro rice on either side. Add the eggs.
7. Drizzle crema over the chilaquiles, then top with crumbled queso fresco.
Per serving: 1,118 calories; 72g fat; 47g saturated fat; 376mg cholesterol; 30g protein; 94g carbohydrate; 8g sugar; 16g fiber; 1,332mg sodium; 252mg calcium