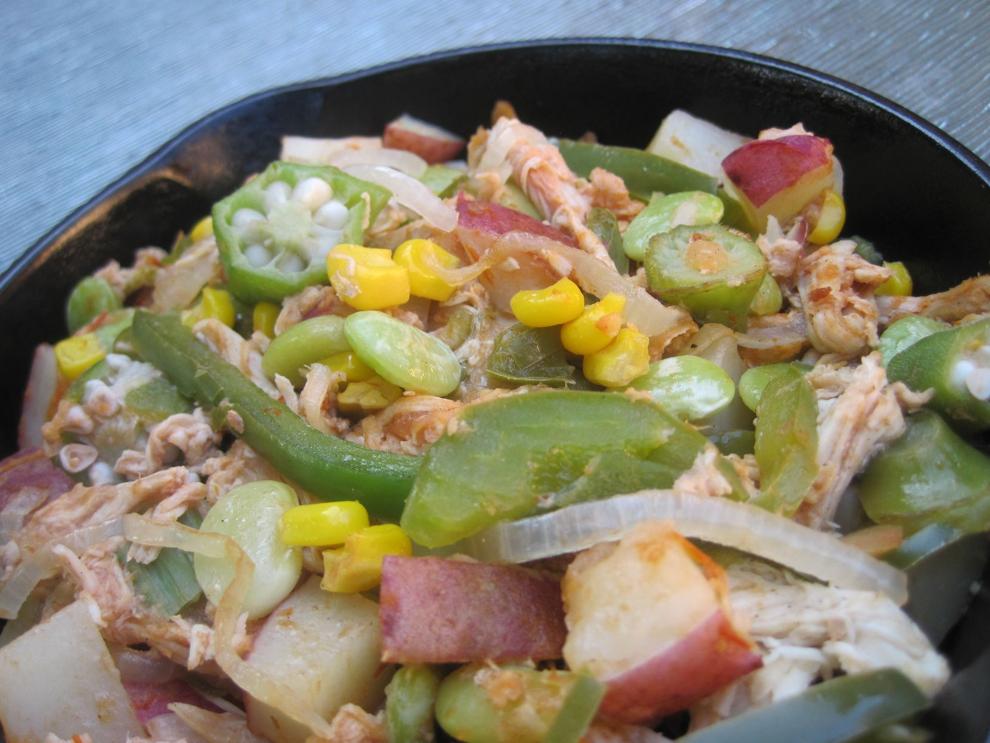 2 cups potatoes cut in half-inch cubes
¼ cup clarified butter or 4 tablespoons regular unsalted butter (see notes)
1 yellow onion, peeled and sliced in 1/8-inch rings, separated
1 medium green pepper, seeded and sliced in 1/8-inch pieces
2 cups chicken, cooked and shredded
Notes: Eckert's uses a commercially available liquid butter for this recipe. Unsalted clarified butter or regular butter, melted, can be substituted.
• Eckert's cooks this dish in a large cast iron pan over an open fire. The dish can be made on a grill, but we tested it stovetop.
• For this recipe we used red potatoes cut in half-inch cubes, frozen baby lima beans and mild salsa.
• We had all ingredients prepped, measured and ready to add to the pot before we started cooking.
• We used a rotisserie chicken in this dish. After removing skin and bones, we shredded the meat from from 2 thighs and 2 breasts to make 2 cups cooked chicken.
1. Parboil the cut potatoes for 6 minutes, drain and reserve.
2. While the potatoes parboil, preheat an 8- or 9-inch cast iron skillet on low. Raise heat to medium and melt butter in the skillet.
3. Add the onions and spread across the bottom of the pan. Allow to cook for 3 to 4 minutes.
4. Add sliced peppers in an even layer on top of the onions and cook for 3 to 4 minutes.
5. Turn the onions and peppers together, raise the heat to medium high and add the potatoes. Cook for 7 minutes, then turn the potatoes into the onions and peppers and cook for 7 minutes more.
6. Add the frozen lima beans, okra and corn, spreading them evenly over the top of the pan. Cook for 5 minutes, then turn the vegetables into the potatoes, onions and peppers. Add the shredded chicken evenly over the pan and sprinkle with white pepper and salt.
7. Add ¼ cup of the salsa, then turn the chicken into the mix. If needed, add remaining ¼ cup of salsa.
8. Heat until warmed through and serve.
Per serving: 273 calories; 16g fat; 8g saturated fat; 56mg cholesterol; 16g protein; 17g carbohydrates; 5g sugar; 4g fiber; 367g sodium; 35g calcium