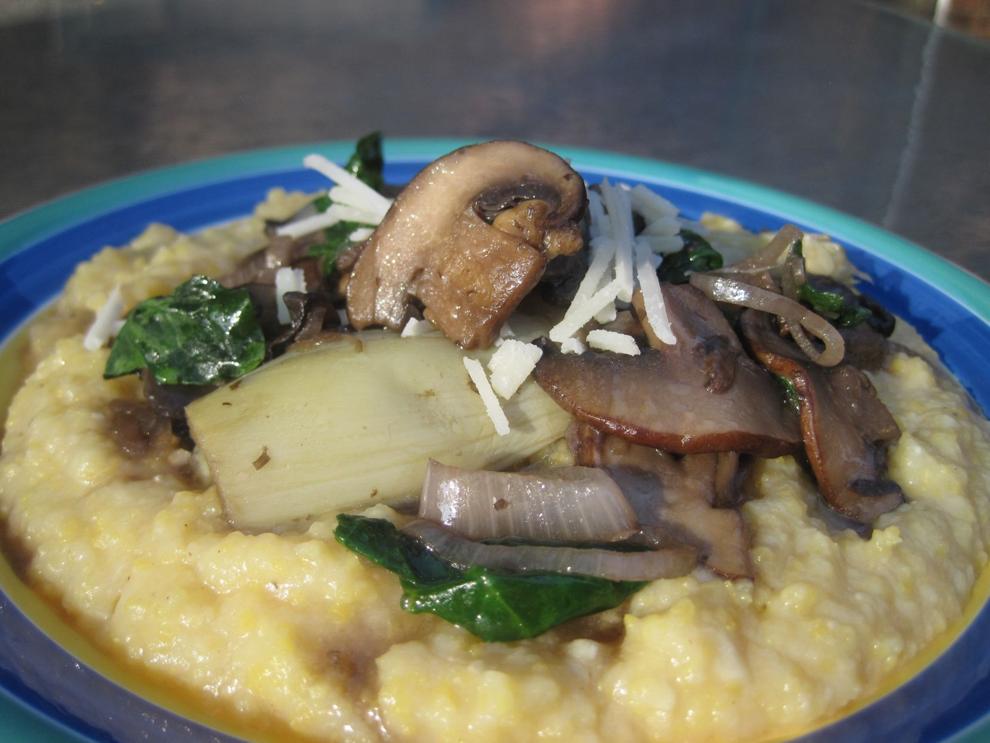 6 cloves garlic, peeled, divided
4 tablespoons extra virgin olive oil, divided
3 to 5 cups low-sodium chicken stock or vegetable stock
½ cup heavy cream or half-and-half, optional
¼ cup goat cheese, optional
2 tablespoons unsalted butter
½ cup grated pecorino cheese
2 shallots peeled and sliced into thin rings
2 ½ cups assorted mushrooms, sliced
½ cup quartered artichoke hearts in water
1 teaspoon white truffle oil
1 ½ cups roughly chopped fresh spinach
4 tablespoons coarsely shredded Reggiano Parmigiano, optional
Notes: For this recipe, it is best to prep all ingredients ahead of time to keep cooking flowing smoothly.
• For the test we used Bob's Red Mill Corn Grits Polenta. Grits and polenta vary widely, so the cooking times and the amount of liquid added can also vary widely. Although the test grits reached a nice thick consistency at 5 minutes using the original 3 cups stock and ½ cup half-and-half, tasting a small spoonful revealed a grittiness. We ended up cooking the polenta for 18 minutes total, adding 2 cups more of hot stock in ¼ cup increments as needed, until the mouthfeel was creamy and softly granular. Other quality polentas include locally grown McKaskle Family Farms Organic Popcorn Polenta and Anson Mills Artisan Made Fine Yellow Polenta.
• For the goat cheese, we used a log cut into ½ –inch cubes. Butter was also cut in smaller cubes.
• White truffle oil is available at Extra Virgin, An Olive Ovation in Ladue and at Vom Fass in Maplewood.
1. Finely chop 4 cloves of garlic and set aside. Warm a heavy bottomed 3-quart sauce pan over medium low heat, then add 1 tablespoon olive oil. Reduce heat to low and add the 4 chopped garlic cloves. Stir to coat with oil and sauté for 2 minutes. Do not brown the garlic.
2. Add 3 cups of stock and the ½ cup of cream (optional) to the pot, reserving 2 cups of stock, and bring to a steady simmer over medium high heat.
3. Place the remaining 2 cups stock in a small saucepan on the stove and heat to a steady simmer and keep in reserve to use as needed.
4. Using a whisk, slowly pour the polenta into the 3-quart larger pan, whisking constantly for 5 minutes, until the texture is smooth.
5. Continue to cook, stirring often with a wooden spoon, for 5 to 18 minutes until the polenta thickens to a creamy consistency and loses its hard granular mouthfeel. Add the reserved heated stock as needed in ¼ cup increments.
6. Remove from the heat. Add in the goat cheese and butter and push into the hot polenta with the wooden spoon. Add the grated pecorino in four additions, folding into the hot polenta after each addition. Allow the cheeses to melt before giving a quick stir to incorporate and set aside in a warm spot, such as the back of the stove, cover and vent the pot.
7. Taste, then add salt and pepper if needed.
8. For the topping, finely chop the remaining 2 cloves of peeled garlic. Peel and slice shallots into thin rings and separate. Warm an 8-inch skillet over low heat, raise heat to medium and add remaining 3 tablespoons of olive oil. When the oil is hot, add sliced shallots and garlic and sauté for 1 to 2 minutes without browning them.
9. Stir in sliced mushrooms, chopped spinach, artichoke hearts and truffle oil, and raise heat to medium high and sauté for 5 minutes, stirring often.
11. Taste. Add salt and pepper if needed.
12. Divide the polenta evenly, then top with the sautéed mushroom mixture, garnish with Reggiano Parmigiano (if desired) and serve.
Per serving (based on 4): 534 calories; 35g fat; 15g saturated fat; 59mg cholesterol; 18g protein; 38g carbohydrate; 3g sugar; 4g fiber; 968mg sodium; 183mg calcium
Amy Bertrand • 314-340-8284
@abertrand on Twitter