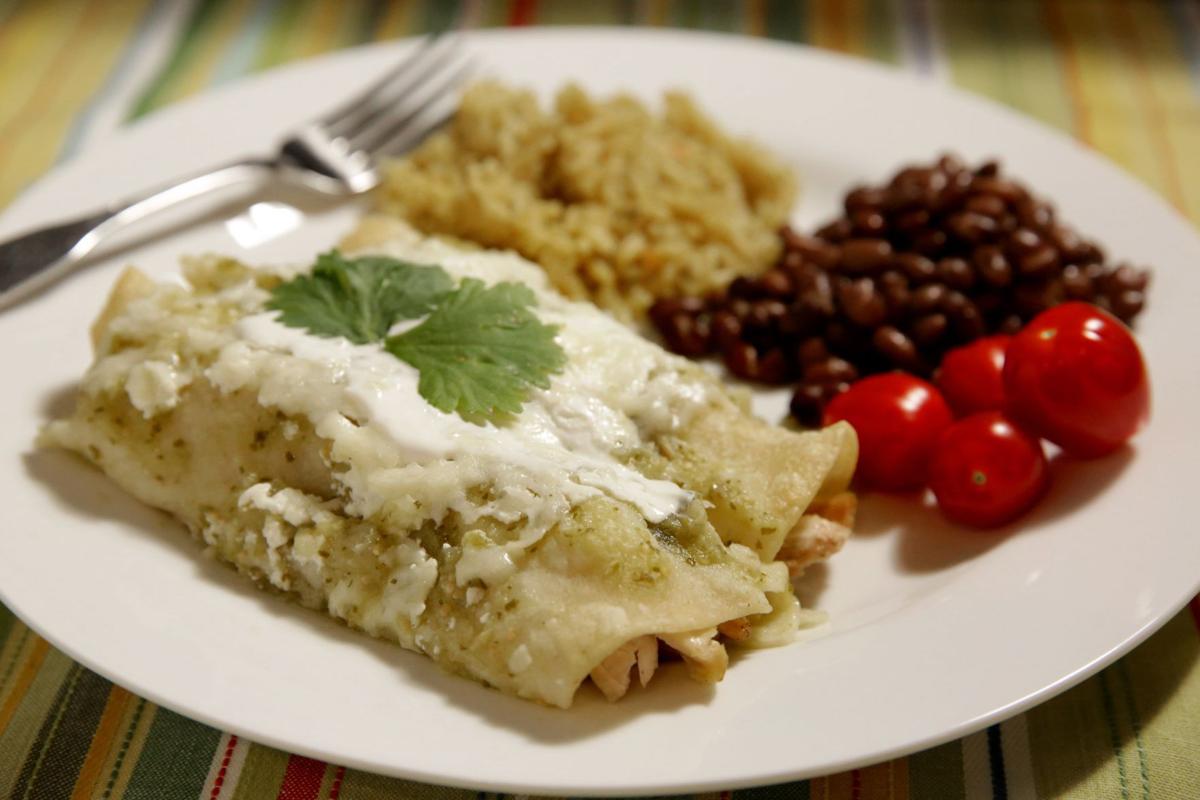 1 medium white onion, quartered
1 to 3 serrano peppers, seeds removed for less heat, if desired
5 tablespoons oil, divided
12 (6-inch) corn tortillas
1¼ pounds cooked chicken, shredded
¾ cup crema or ½ cup sour cream mixed with ¼ cup milk
4 ounces shredded queso fresco or mozzarella cheese
1. Pull the husks from the tomatillos and rinse to remove sticky residue. Place tomatillos, onion, peppers and garlic in a large pot and just cover with water. Bring to a boil, lower the temperature and simmer for 10 minutes.
2. Transfer the cooked ingredients to a blender, along with the cilantro and 2 cups of the cooking liquid. Blend until smooth, about 30 seconds. If too thick, add more cooking liquid until desired texture.
3. Add 2 tablespoons of the oil to the pot on high heat. When it's hot, pour the blended salsa into the pot. Reduce the heat and simmer for 20 minutes. Stir in the salt and adjust seasoning if necessary. Use immediately or refrigerate for up to 3 days.
4. Preheat oven to 375 degrees.
5. Pour 1 tablespoon of the remaining oil into a skillet and heat over medium-high heat until hot. Place 1 tortilla in the oil and cook 10 seconds, until tortilla starts to bubble. Flip and cook other side 10 seconds (this step makes the tortillas pliable and will keep the sauce from soaking through). Remove with tongs, shaking excess oil back into pan, and drain on paper towels. Repeat with remaining tortillas, adding more oil when necessary.
6. Spread ½ cup of the sauce around the bottom of a 9-by-13-inch baking dish. Stir ¼ cup of the sauce into the chicken. Place a few tablespoons of this mixture down the middle of a tortilla, roll the tortilla and place seam-side down into the baking dish.
7. Repeat with the remaining tortillas. Pour the remaining sauce evenly over the enchiladas. Spread crema or thinned sour cream over the top and scatter shredded cheese over that. Bake 15 minutes.
Per serving (based on 4): 796 calories; 45g fat; 14g saturated fat; 151mg cholesterol; 48g protein; 51g carbohydrate; 8g sugar; 8g fiber; 958mg sodium; 314mg calcium