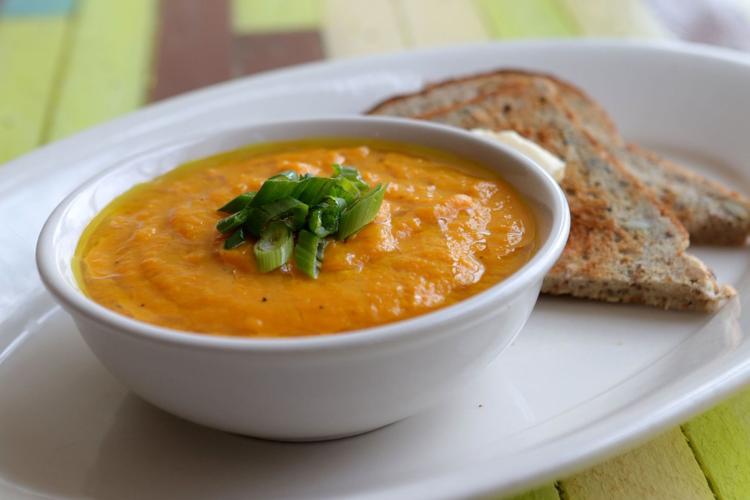 2 ½ teaspoons Big Heart Sunshine Dust
1 ½ tablespoons peeled and roughly chopped of fresh ginger root
1 tablespoon peeled and roughly chopped fresh turmeric root
3 cloves of garlic, peeled
1 ½ medium yellow onions, peeled and roughly chopped in ½-inch pieces
3 tablespoons coconut oil
3 pounds orange carrots, peeled, then roughly chopped into 1-inch pieces
1 ½ quarts (6 cups) cold water
Juice of 3 oranges, preferably juice oranges
¾ teaspoons ground black pepper
2 to 3 scallions, thinly sliced on the diagonal, for garnish
Notes: Big Heart Sunshine Dust is available at Larder & Cupboard in Maplewood. This all-organic powder is a blend of ginger, turmeric, peppercorns and lemongrass. The ingredients are stone ground and hand-blended. It is often used to make golden milk lattes. It may be substituted for turmeric in most recipes to add a deeper flavor. It's also available online at bighearttea.com.
• Kitchen House buys the fresh ginger and turmeric at Jay's International Food Co., 3172 South Grand Boulevard. Both are also available at some Schnucks stores.
1. The day before making the soup, mix the Sunshine Dust into the olive oil and let stand 24 hours to infuse the oil.
2. When ready to cook, add chopped fresh ginger, turmeric and garlic to the bowl of a food processor and pulse until soft paste forms. Set aside.
3. Heat coconut oil in a 4- or 5-quart heavy-bottomed pan over medium-high heat until the oil pops when flicked with small water droplets.
4. Reduce heat to medium low. Add the chopped onions to the pan, stir, then cook until the onions are soft and translucent.
5. Add the reserved ginger, turmeric and garlic paste to the pot and stir to incorporate. Raise heat to medium high, add chopped carrots and water. Bring the pot to a boil, reduce heat to medium low and cook uncovered for 40 to 50 minutes until the carrots are soft. Turn heat to low.
6. Using an immersion blender (or a regular blender) blend until the soup is thick and smooth.
7. Stir in the freshly squeezed orange juice, salt and pepper until well-combined.
8. Divide equally into 5 bowls.
9. Place the infused oil in a squirt bottle and swirl on top of the soup.
10. Garnish with chopped scallions and serve.
Per serving: 329 calories; 20g fat; 9g saturated fat; no cholesterol; 4g protein; 37g carbohydrate; 19g sugar; 9g fiber; 1,121mg sodium; 116mg calcium
Amy Bertrand 314-340-8284
@abertrand on Twitter