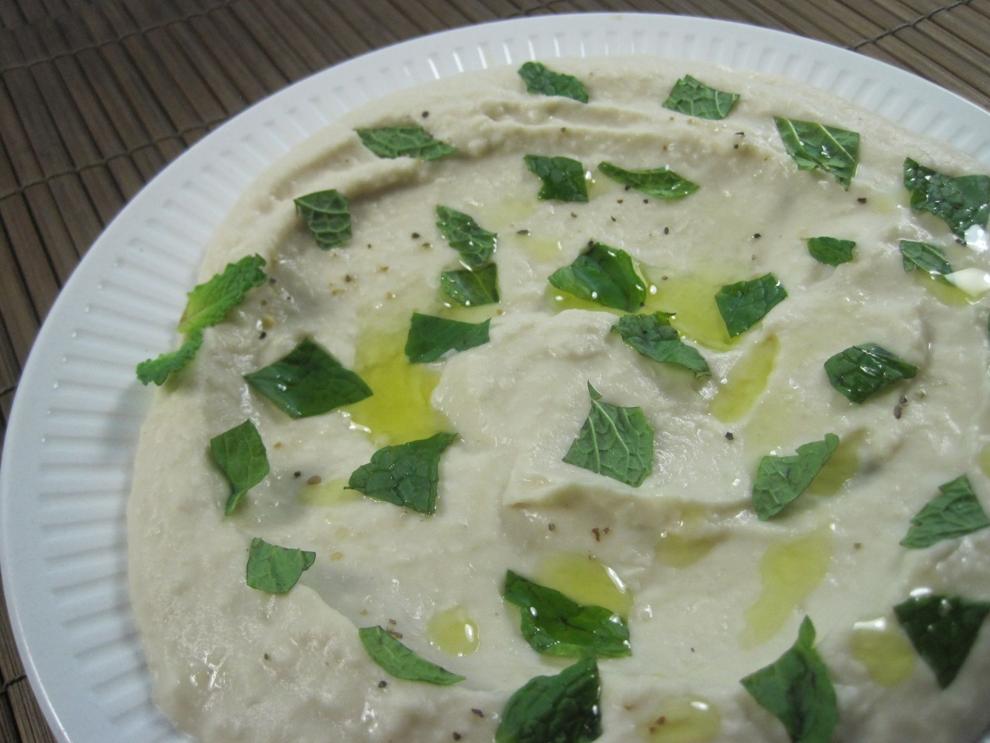 Yield: 6 cups hummus; ½ cup per serving
For the herb sachet that cooks with the beans
3 sprigs of fresh thyme, 4- to 5-inches long or 1 ½ teaspoons dried thyme (not ground)
2 cloves fresh garlic, smashed in skins
1 strip of kombu, approximately
1 ¾ cups dried Great Northern Beans
7 to 8 cups water to cover beans (4 times their volume)
1/3 cup roasted garlic cloves, squeezed from their skins
5 tablespoons plus 1 teaspoon freshly squeezed lemon juice
1 to 2 teaspoons salt to taste
4 to 5 fresh mint leaves chopped in half inch pieces
1 to 2 tablespoons buttery extra virgin olive oil to drizzle on top
Notes: You will find dried kombu, which is a form of seaweed, at Whole Foods and at Global Foods in Kirkwood. The amino acids in kombu help soften beans and makes them more digestible, as well as add a pop of umami to the dish. Nori is not a good substitute for this.
• The day before, roast whole heads of garlic according to your favorite method. Roasting produces a smooth, flavorful and creamy paste that is very mild.
1. The night before, cover the beans with water (4 times the volume of the beans) and soak overnight.
2. Make an herb sachet. Use a double layer of cheesecloth 6-inches-by-6-inches or a small paper coffee filter to hold the herbs. Place the bay leaf, peppercorns, thyme, garlic cloves and kombu strip in the center of the cheesecloth or filter, draw the sachet together to enclose the herbs, then wrap and tie it closed with kitchen twine.
3. Rinse the soaked beans and cover with fresh water to a depth of 2 inches over the beans. Bring the pot to a boil, then reduce heat to a low simmer, add the sachet, cover and vent, and cook beans until tender and soft.
4. Remove the sachet and discard. Drain the beans, reserving 1 cup of cooking liquid to thin out the hummus if needed.
5. Blend the beans in 2 to 3 batches, with proportionate amounts of garlic cloves, olive oil, tahini and half of the lemon juice to an even smoothness, adding reserved cooking liquid as needed.
6. Once everything is smooth, check for consistency of texture throughout and blend as needed.
7. Taste and add half the salt. If more of a lemon flavor is desired, stir in remaining lemon juice. Taste again, then add salt if needed.
8. To serve, spread on a plate, then dot evenly across the top with mint leaf pieces. Sprinkle with pinches of smoked salt. Lightly drizzle with extra virgin olive oil and serve with pita, if desired.
9. Cover and store in the refrigerator for 4 to 5 days.
Per serving: 221 calories; 14g fat; 2g saturated fat; no cholesterol; 7g protein; 20g carbohydrate; 1g sugar; 6g fiber; 250mg sodium; 68mg calcium