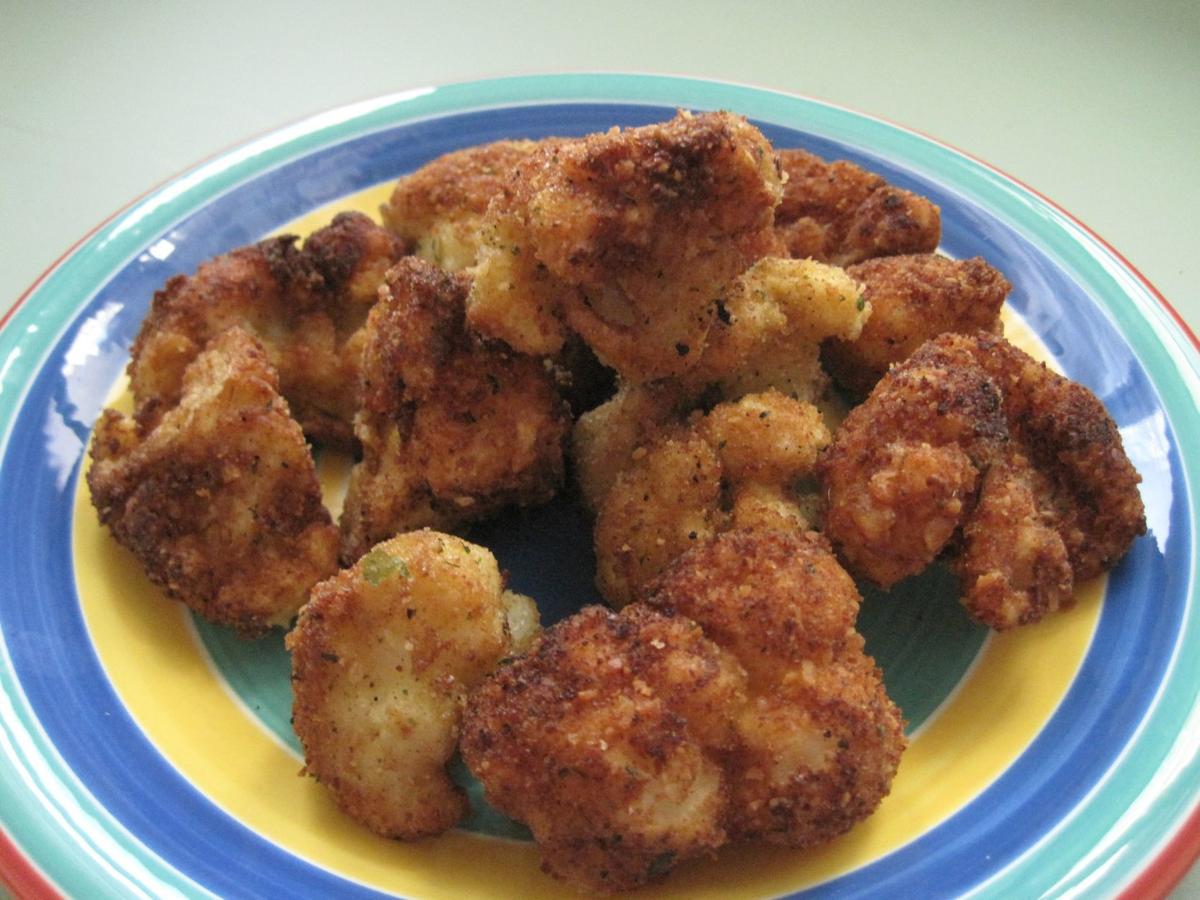 Yield: 4 large servings or 8 appetizer servings
1 head cauliflower (approximately 1 ¾ pounds)
2 cups Italian style bread crumbs
1 ¼ cup extra virgin olive oil (or a mix of 50/50 canola and olive oil)
Notes: When you trim the cauliflower, reserve the stem for later use. When its outer fibrous layer is peeled, it can be used in slaws, soups or cauliflower rice or it can be diced and roasted.
• We used half olive oil and half canola oil for the test because the cast iron we used retains heat so well. Canola oil has a higher smoke point than olive oil, so we blended the oils to suit the skillet.
• If you don't have Italian-style bread crumbs, you can make your own. For 2 cups of plain bread crumbs, add 1 teaspoon dried parsley flakes and garlic powder plus ½ teaspoon each of salt, pepper, dried oregano, basil and onion powder.
• Fry the florets in batches and don't overcrowd the skillet. For the test, we breaded about 12 pieces as the oil warmed, then dredged and breaded them as needed to keep cooking. It was a little challenging but not that difficult to keep up.
1. Rinse cauliflower under cold water. Pat dry. Remove any large leaves around the base of the stem. Using a paring knife, cut around the stem at the top of the head, rotating the cauliflower as you cut. Break the head into florets, trim large stems if needed and cut extra-large florets into smaller pieces. All pieces should be approximately the same size.
2. Add cold water to a large 3- or 4-quart pot until it is half full, add salt and bring to a fast boil. Add prepared florets and cook for 5 to 6 minutes. Drain and set aside.
3. Set up a space on the counter for the egg wash and the breading. Use a medium bowl for the egg wash and a shallower bowl to hold the breading.
4. Whisk eggs and water in the medium bowl. Add ½ cup breadcrumbs to the shallower bowl.
5. Warm a large skillet or sauté pan over medium-low heat and add oil to a depth of about ½-inch. Raise heat to medium high and heat the oil until hot.
6. As the oil warms, drag florets through the egg wash with one hand. Use the other hand to dredge the florets through the bread crumbs. Make sure each piece is completely coated as some breading will come off in the pan.
7. When the oil sizzles when a flick of flour hits the surface, begin cooking the florets, not crowding the pan, turn as needed and fry until deep golden brown, using short tongs to turn as needed.
8. Remove cooked florets to a dish lined with paper towels and continue frying until all are done.
Per serving (based on 8): 255 calories; 17g fat; 3g saturated fat; 46mg cholesterol; 6g protein; 22g carbohydrate; 3g sugar; 2g fiber; 519mg sodium; 66mg calcium
Satisfy your cravings
With our weekly newsletter packed with the latest in everything food.