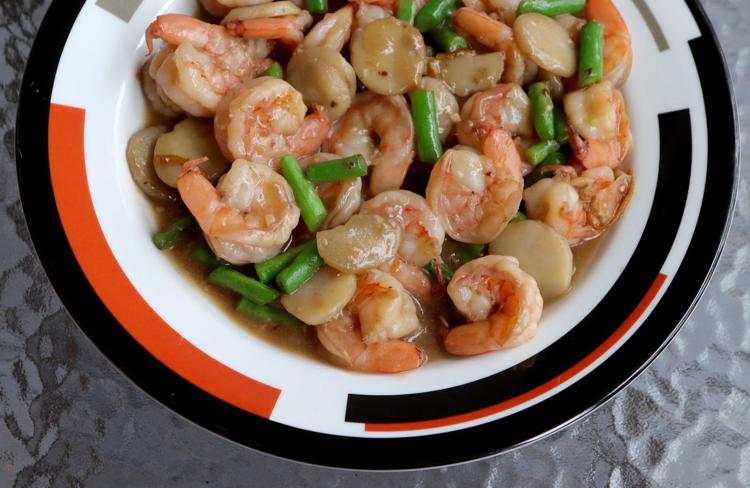 Yield: 4 servings
1½ pounds shrimp, peeled and deveined
2 tablespoons dry sherry or Chinese rice wine
1 tablespoon dark soy sauce
1 tablespoon cornstarch
2 tablespoons peanut oil, corn oil, vegetable oil or safflower oil
2 (3-inch) strips orange zest, cut into very fine julienne, or more if desired
½ cup chicken broth
2 garlic cloves, finely chopped
1 tablespoon minced ginger
½ teaspoon crushed red pepper, or to taste
1 (8-ounce) can water chestnuts, rinsed, drained and sliced thin
¼ pound green beans, cut into 1-inch pieces
1. Marinate the shrimp in the sherry and soy sauce in the refrigerator for 2 hours.
2. Work the cornstarch to a smooth paste with 1 tablespoon of the chicken broth, and then stir the paste into the remaining broth.
3. Heat the oil in a wok or large skillet over medium heat. When the oil begins to ripple, stir in the orange zest, garlic, ginger and crushed pepper. Stir for about 1 minute — the ingredients should sizzle but not brown — and toss in the water chestnuts, shrimp and green beans. Turn the heat up to high and stir or toss the mixture until the shrimp curls and turns pink, about 3 minutes.
4. Give the chicken broth/cornstarch another stir and pour into the pan. Continue stirring over high heat until the liquids come to a boil and coat the shrimp and vegetables, about 1 minute. Serve immediately over rice.
Per serving: 278 calories; 7g fat; 6g saturated fat; 274mg cholesterol; 36g protein; 15g carbohydrate; 3g sugar; 5g fiber; 483mg sodium; 130mg calcium
Adapted from "Fish & Shellfish," by James Peterson
Daniel Neman • 314-340-8133
Food writer
@dnemanfood on Twitter
Concerned about COVID-19?
Sign up now to get the most recent coronavirus headlines and other important local and national news sent to your email inbox daily.