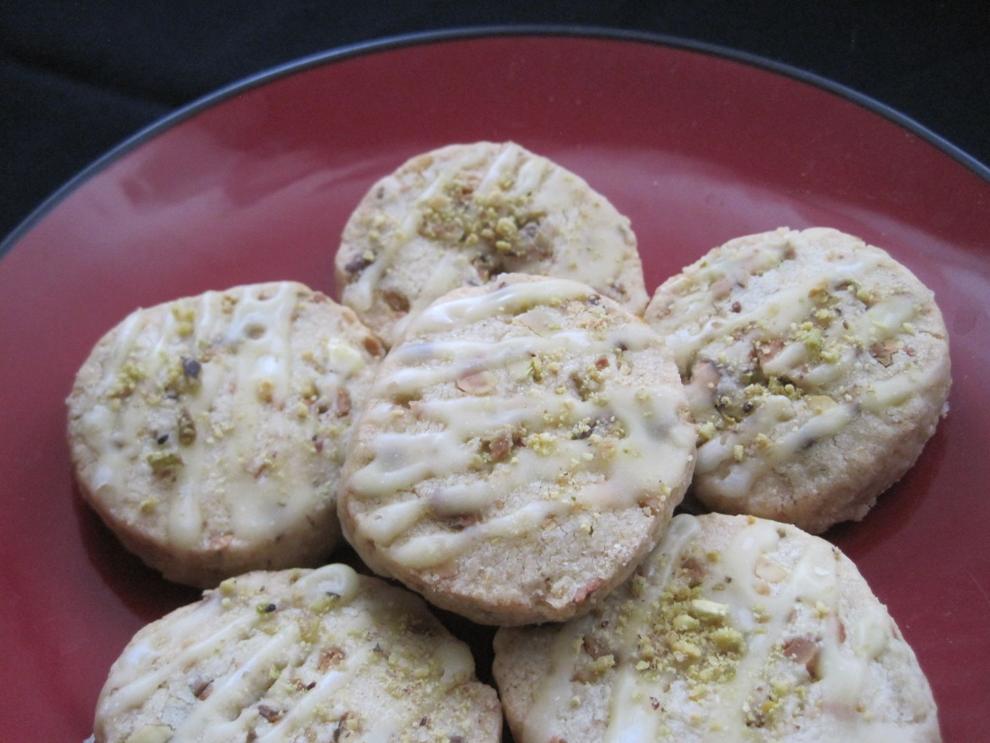 2 cups shelled pistachios, roughly chopped
1 pound unsalted butter, softened
2 teaspoons vanilla extract
3 ½ cups all-purpose flour
1 tablespoon orange juice
Notes: The butter for this recipe should be softened to the point where a finger pushed into the butter leaves an indentation but does not collapse.
• The pistachios should be roughly chopped rather than finely chopped. Chopping pistachios produces fine dust. Prior to toasting them, we tossed the chopped nuts in a fine mesh strainer to dislodge the fine dust.
• The logs can be wrapped well and frozen in freezer-safe packaging to slice and bake at a later date.
1. Toast pistachios in the oven or stovetop in a skillet for 6 minutes. Set aside to cool.
2. In a large mixing bowl, cream butter and granulated sugar together until light and fluffy, then add the vanilla and orange zest.
3. In a separate bowl, whisk flour, cornstarch and salt together.
4. Add flour mixture to the butter mixture in three or four additions, scraping down the bowl in between. Just before the last addition is fully combined, add chopped pistachios. Avoid adding any extra pistachio dust. Mix until just combined.
5. Turn the dough out onto a floured surface and knead a few times to make sure all ingredients are combined.
6. Divide the dough in 2 pieces. Roll into logs 2 inches in diameter. Wrap the logs and refrigerate for at least an hour.
7. Preheat oven to 350 degrees about 10 minutes before removing the dough logs from the refrigerator.
8. Slice the dough into generous ¼-inch thick slices and place on an ungreased baking sheet. Bake for 10 minutes total, rotating the baking sheet halfway through. The cookies are done when the edges are lightly golden.
9. Remove baked cookies to a wire rack to cool.
10. While the cookies cool, make the glaze. Whisk together orange juice and powdered sugar. The glaze should be just liquid enough to stream off the end of a whisk. Add more orange juice if needed in small increments.
11. Drizzle cookies with glaze and let dry.
Per cookie: 190 calories; 12g fat; 6g saturated fat; 24mg cholesterol; 2g protein; 20g carbohydrate; 10g sugar; 1g fiber; 5mg sodium; 11mg calcium