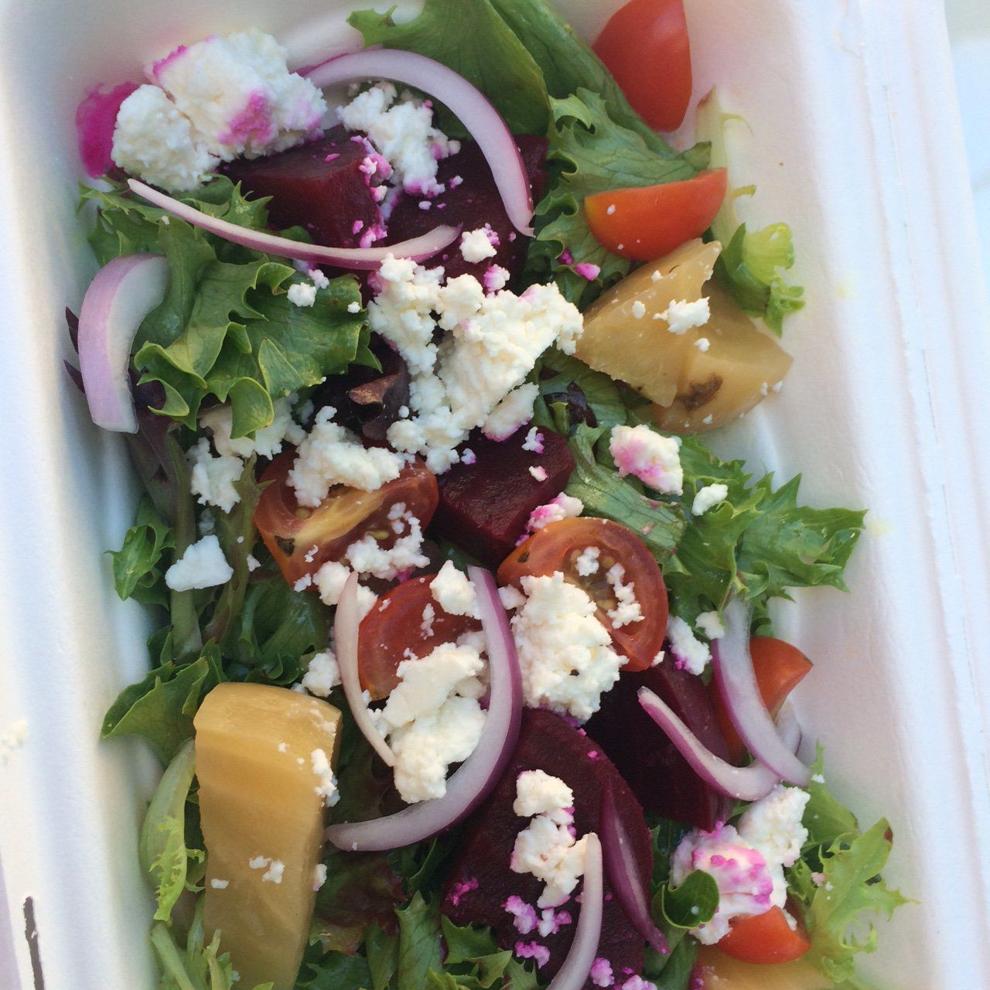 4 medium beets, red, golden or mixed, about 3 inches in diameter
1 1/4 cup plus 2 tablespoons olive oil, divided
1 1/2 tablespoons salt, divided
3 cups apple cider vinegar
1 1/2 cups granulated sugar, divided
2 tablespoons pickling spice
1 ½ teaspoons whole fennel seed
1 1/4 cup rice wine vinegar (may substitute cider vinegar if desired)
1 teaspoon dried red chili flakes
10 to 12 cups spring mix lettuces torn in bite-size pieced
1/2 medium red onion, about 3 inches in diameter, thinly sliced or shaved across
1 pint grape or cherry tomatoes, halved
4 ounces feta cheese crumbles
Notes: The beets may be roasted and pickled, then refrigerated, a day ahead of time.
• Each color of beet should be kept in separate containers for cooling and pickling to preserve colors.
• Pickled beets are available jarred and ready if time is critical, but they must be fully drained before use.
• Cider vinegar may be used in the dressing instead of rice wine vinegar. Rice wine vinegar should be refrigerated after opening.
• Pickling spice is readily available this time of year and may be found either in the spice section or in the section of the store with canning jars and food preservation supplies.
1. To roast the beets, preheat oven to 350. Trim the beet greens, leaving about 1 1/2 inches of stem on the beets. Do not trim the root. Gently wash beets under cold running water to remove dirt. Don't scrub or mar the skin. Reserve greens for another use.
2. Brush the beets with 2 tablespoons olive oil, and then sprinkle all beets with 1/2 teaspoon of salt. Wrap each beet in aluminum foil. Place wrapped beets in a roasting pan and cover the pan with foil. Roast for one hour. Check for doneness using a cake tester. When done, the cake tester should push through easily. Add additional baking time if needed until beets are done.
3. Remove from oven and let cool. Remove foil from each beet. Using paper towels, hold each beet by the root and gently rub off the skin and trim the top. Dice into large pieces, about 3/4 inch by 1/2 inch. Place in a large non-reactive mixing bowl (stainless steel or Pyrex) and set aside.
4. To make the pickling brine, place cider vinegar, water, 1 cup sugar, 1 tablespoon salt, and pickling spice in a large 4-quart nonreactive saucepan (stainless steel or Pyrex) and bring to a boil, stirring as needed until the sugar dissolves and the mixture comes to a boil. Pour hot liquid over the diced beets, mix with a spoon, and make sure all beets are covered by liquid. Allow to cool to room temperature before storing, covered, in the refrigerator.
5. To make the fennel dressing, toast the fennel seeds stovetop in a skillet until the seeds are toasty brown and release their fragrance. Remove from skillet and set aside to cool.
6. Place rice wine vinegar, 1/2 cup sugar, and 1 teaspoon salt in blender. Allow to stand for 10 minutes.
7. Next, add 1 1/4 cup olive oil, toasted fennel, oregano and red chili flakes and mix on high speed until the dressing emulsifies.
8. Toss the spring mix, sliced red onions and cherry tomatoes with desired quantity of dressing.
9. Divide dressed greens evenly on 8 plates, and top each with beets and feta cheese.
Per serving:  586 calories; 53g fat; 9g saturated fat; 13mg cholesterol; 33g protein; 25g carbohydrate; 19g sugar; 4g fiber; 1,220mg sodium; 128mg calcium