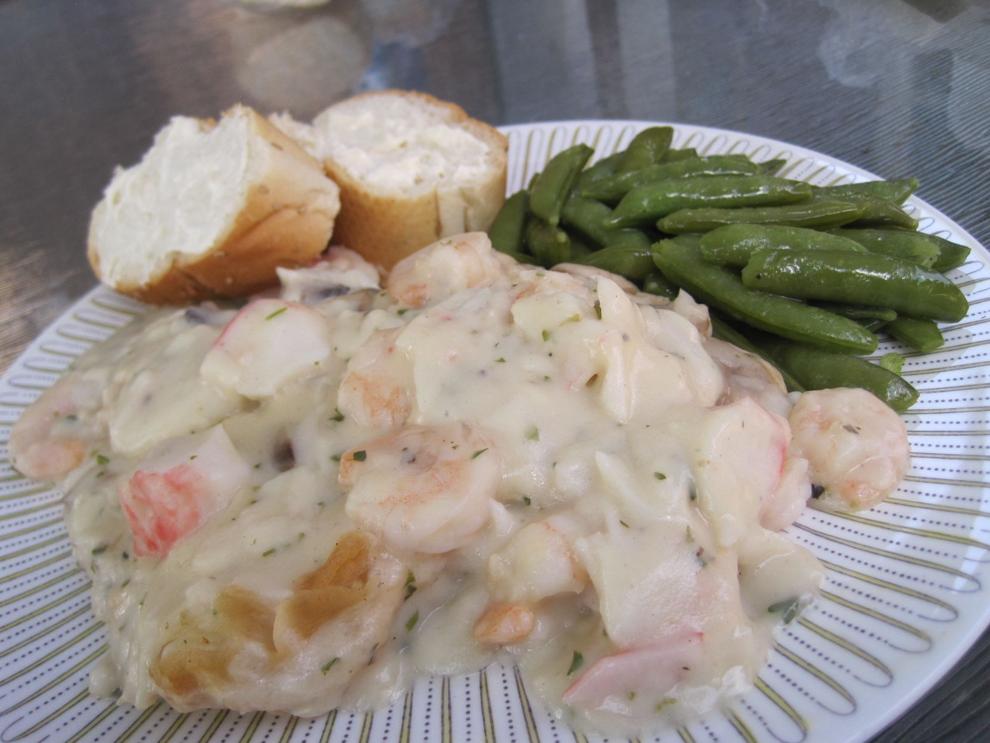 1 cup heavy cream or half-and-half
1 cup plus 3 tablespoons all-purpose flour, divided
¼ cup finely grated Parmesan cheese
½ teaspoon finely ground black pepper
8 ounces lump crabmeat, cooked or canned, or Sea Legs surimi crab substitute
8 ounces cooked shrimp, peeled, deveined and tail removed
8 ounces sliced mushrooms, canned and drained of liquid, or fresh cooked and cooled
½ teaspoon finely chopped garlic
2 tablespoons fresh parsley, leaves only, chopped (optional)
Notes: For the test, we used the mise en place technique of gathering and measuring all ingredients ahead of time and having them ready on the countertop before cooking begins.
• We bought 12 peeled and deveined shrimp, size 21/30 at the fresh fish counter and had them cooked in-store for this test.
1. To make the white sauce, warm the cream or half-and-half in the microwave or stovetop until just warm, not hot.
2. Melt 3 tablespoons of butter in a heavy-bottomed 2-quart saucepan over medium heat. Do not brown.
3. Gradually sprinkle 3 tablespoons all-purpose flour into the melted butter, whisking constantly. Cook for 4 to 5 minutes and continue whisking to cook off any flour taste.
4. Add a few spoons of the warm milk to the flour-butter mix and stir in. Slowly drizzle in the remaining warm milk, whisking constantly, until the mixture is smooth. Cook, stirring constantly, until it begins to bubble and thicken. Stir in the Parmesan. Reduce heat to lowest setting and keep warm.
5. Warm a large 9- or 10-inch skillet over low heat, then add the oil, raise heat to medium high until the oil shimmers. Flick a drop of water or flour into the skillet to test the heat. It should skitter or sizzle.
6. Season cod fillets with salt and pepper on both sides as the oil heats. Dredge in flour on both sides and place in skillet, allowing room to turn the fillets between each piece. Cook for 3 to 4 minutes, and then flip with a fish spatula or with a spatula with a thin leading edge and cook for an additional 3 to 4 minutes.
7. While the fish cooks, add crabmeat, shrimp, mushrooms, garlic, wine and lemon juice to the cream sauce.
8. Plate one piece of fish on each of 4 plates. Top with 3 shrimp on each piece. Ladle remaining sauce over the plates, evenly divided. Garnish with fresh chopped parsley if desired.
Per serving (using heavy cream): 791 calories; 47g fat; 31g saturated fat; 319mg cholesterol; 66g protein; 28g carbohydrate; 3g sugar; 2g fiber; 1,037mg sodium; 213mg calcium