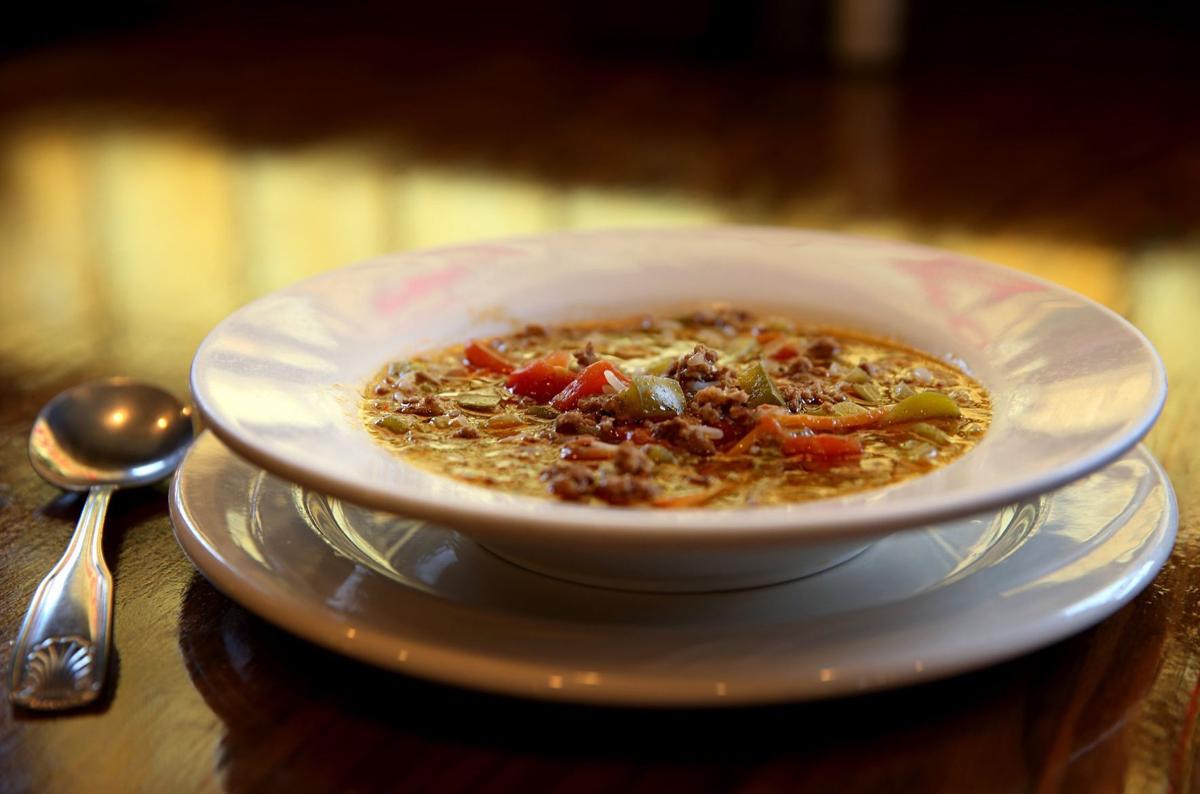 Yield: 10 (1 ½ cup) servings
3 to 4 tablespoons olive oil
1 yellow onion, 3 or 4 inches in diameter, peeled and diced
1 large green (or any color sweet bell) pepper, seeded and cut into half-inch pieces
1 large carrot, peeled and shredded into large shreds
1 tablespoon Worcestershire sauce
2 cups diced tomatoes with juice
¼ teaspoon cracked rosemary
1 tablespoon sweet paprika
1 tablespoon granulated sugar
3 beef bouillon cubes or unsalted beef broth (see notes)
2 to 3 tablespoons all-purpose flour
Notes: Two cups to 4 cups unsalted beef broth may be substituted for bouillon. If using broth, reduce the water by the same amount.
• Add the water and cooked rice in stages, gauging the ratio to personal tastes. We used 8 cups of water and 2 cups of cooked rice, which was a nice balance of broth to rice when the soup was just finished. By the following day, the cooked rice had expanded and we added more unsalted beef broth when reheating.
1. Warm a heavy bottomed 5- or 6-quart pot over low heat, then add olive oil. Swirl the pan to lightly coat the bottom. Add onion, celery, peppers, carrots and ground beef. Cook until the ground beef is done, stirring to break up clumps as it cooks to make crumbles of the beef.
2. Add the Worcestershire sauce, tomatoes with juice, all spices and the sugar. Stir together to blend.
3. Add water or a combination of water and broth (see notes) to the pot. If you are not using any beef broth, add bouillon cubes. Stir, and bring to a low boil. Reduce heat to low and simmer for 30 to 45 minutes.
4. Add cooked rice to reach desired consistency.
5. To thicken, place flour in a small deep bowl. Add about a cup of hot broth from the soup and whisk until smooth. Pour this flour and broth slurry into the cooking soup, stirring it in as you go. Cook for 5 to 10 minutes longer, then serve.
Per serving: 225 calories; 11g fat; 3g saturated fat; 31mg cholesterol; 11g protein; 20g carbohydrate; 4g sugar; 2g fiber; 700mg sodium; 30mg calcium.
Satisfy your cravings
With our weekly newsletter packed with the latest in everything food.