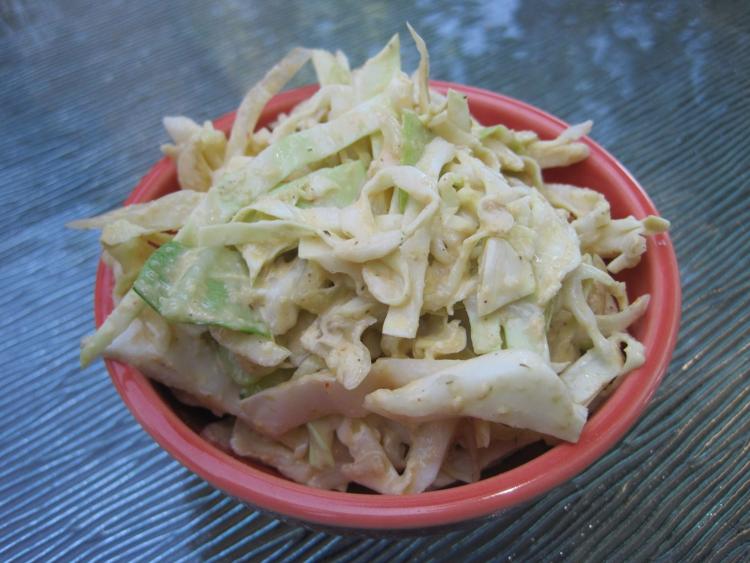 6 tablespoons milk, 2% or whole
1 tablespoon minced green onion
1 tablespoon chopped parsley, leaves only
½ teaspoon SPG seasoning (see notes)
1 ½ teaspoons Greek seasoning
¼ cup pickled jalapeno slices (or to taste)
¼ cup creamy hot sauce (or to taste)
2 tablespoons barbecue sauce
1 tablespoon pepperoncini juice
16 cups thinly shredded green cabbage or slaw mix
2 medium carrots, grated (optional)
Notes: SPG is an equal blend of salt, ground pepper and granulated garlic. Do not use garlic powder or garlic salt in the blend.
• This recipe uses a creamy hot sauce. A vinegar-based hot sauce will be too thin to use on this dish. The owners suggest choosing the level of heat in the hot sauce according to personal taste — mild, medium, hot or extra hot.
1. Place all dressing ingredients except mayonnaise and yogurt into blender and pulse to blend well. Add yogurt and mayonnaise and pulse to completely incorporate.
2. Place in a covered jar and store in the refrigerator until ready to mix the slaw.
3. To mix, place shredded cabbage in a large mixing bowl. If you choose, add grated carrot to the cabbage and toss to mix evenly.
4. Add dressing and toss using salad tongs, wooden salad hands or gloved hands. Make sure to evenly coat the cabbage.
5. Cover and refrigerate until time to serve.
Per serving: 135 calories; 9g fat; 2g saturated fat; 7mg cholesterol; 4g protein; 11g carbohydrate; 6g sugar; 3g fiber; 263mg sodium; 76mg calcium
Satisfy your cravings
With our weekly newsletter packed with the latest in everything food.