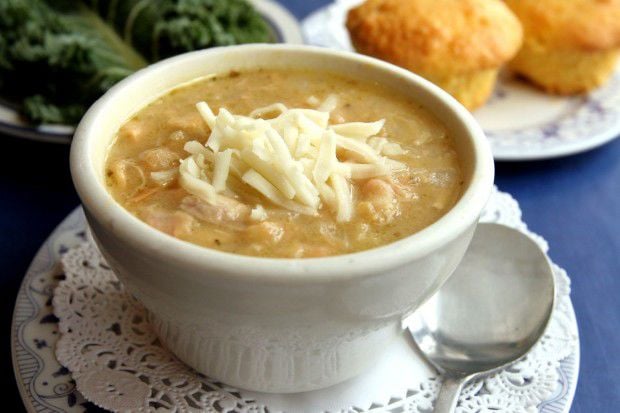 4½ to 5 pounds boneless, skin-on chicken breasts
2 (4-ounce) cans chopped mild green chiles, undrained
1½ teaspoons dried oregano
¼ teaspoon ground cayenne pepper
3 (15- to 16-ounce) cans great Northern beans, undrained
6 cups chicken stock or canned broth
3 cups (12 ounces) grated Monterey jack cheese
Freshly ground black pepper
Sour cream, for optional garnish
1. Place chicken in a large, heavy saucepan. Add cold water to cover; bring to a simmer. Cook until just tender, about 15 minutes. Drain and let cool. Remove skin. Cut chicken into cubes.
2. Add oil to the same pot; place over medium-high heat. When oil is hot, add onions; sauté until translucent, about 10 minutes. Stir in garlic, then chiles, cumin, oregano and cayenne; sauté 2 minutes.
3. Add beans and their liquid and stock; bring to a boil. Reduce heat; add chicken and cheese. Stir until cheese melts. Season to taste with salt and pepper. Ladle chili into bowls. Garnish with sour cream if using.
Per serving: 460 calories; 17g fat; 7g saturated fat; 140g cholesterol; 53g protein; 22g carbohydrate; 3g sugar; 6g fiber; 805mg sodium; 270mg calcium.
Recipe adapted from The Blue Owl Restaurant in Kimmswick.