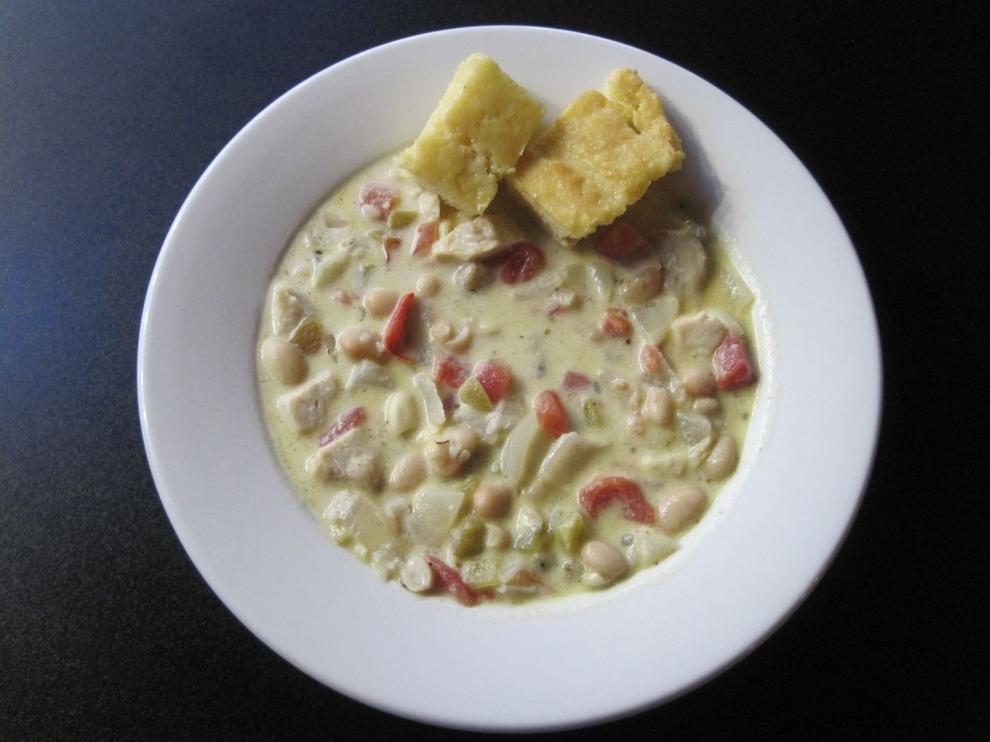 1 medium yellow onion, 2 ½- to 3 inches in diameter
½ teaspoon fresh crushed garlic
4 cups low-sodium chicken broth
4 cups low-sodium white beans, drained and rinsed (see note)
1 (4-ounce) can chopped green chilies, mild or hot, according to taste
12 ounces cooked chicken breast
1 (10-ounce) can Rotel tomatoes with green chilies
1/3 teaspoon black pepper
8 ounces white cheddar, diced
Notes: For the test, we poached two skinless boneless chicken breasts. You may use rotisserie chicken or leftover baked chicken as well.
• Choose a white bean like Great Northern, navy or cannellini beans. The beans can be cooked from dried beans or use a good brand of canned beans. If using beans cooked from dried, don't add salt when the beans finish cooking. The cheese is high sodium and will flavor the beans.
• We diced the white cheddar into ¼-inch cubes for the test. To avoid making a stringy cheese soup, don't bring the soup to a full roiling boil; rather, heat to a slow boil where a bubble breaks the surface every so often, not constantly. Heating the milk mix too high can cause the protein bonds in cheeses to break, release moisture and create a stringy soup.
• The Fountain serves this soup with two small pieces of cornbread, which they call croutons.
1. Warm a 4- or 5-gallon pot over medium heat, then add olive oil and swirl to coat pan.
2. Peel, then chop the onion into ½-inch pieces. Cook over medium heat until translucent.
3. Add chopped garlic to the onions, stir and cook for 1 minute.
4. Add chicken broth, then add beans, cooked chicken, green chilies, Rotel tomatoes, cumin, black pepper and oregano and simmer for 30 minutes.
5. The soup should be hot, but not boiling at this point. Add the diced cheese in 3 or 4 additions, allowing it to melt with minimal stirring.
6. To temper the sour cream, place it in a small bowl. Add about ¼ cup of the hot broth and stir in. Repeat. Add the tempered sour cream to the soup pot and stir in. Serve.
Per serving: 606 calories; 30g fat; 12g saturated fat; 137mg cholesterol; 52g protein; 33g carbohydrate; 4g sugar; 8g fiber; 588mg sodium; 392mg calcium