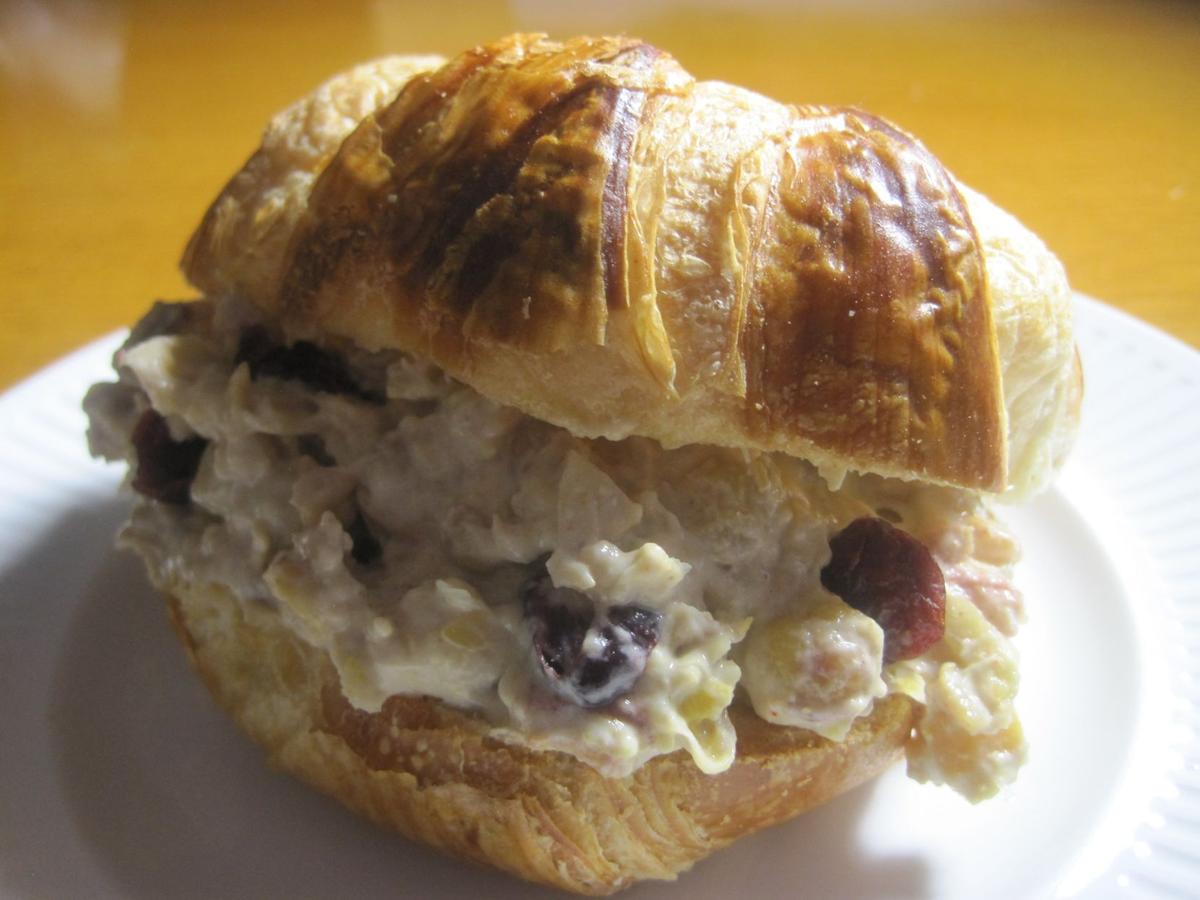 2 (15-ounce) cans chickpeas, drained and rinsed or 3 cooked cups dried chickpeas, cooked and drained
1 stalk celery, finely chopped
3 tablespoons finely chopped red onion
3 tablespoons chopped walnuts
2 tablespoons dried cranberries
1 ¼ cup vegan mayonnaise or regular mayonnaise
1/8 teaspoon of smoked paprika
Notes: For the test, we slipped the skins off the chickpeas, a habit that makes them smoother and creamier when worked in recipes. It is usually done for a smoother texture in hummus, but is not necessary with this recipe.
1. Drain and rinse canned chickpeas.
2. Finely chop the celery and red onion into pieces.
3. Chop the walnuts, and measure out both walnuts and the dried cranberries. Mix them together with the celery and red onion pieces.
4. Place the prepared chickpeas in a shallow mixing bowl. Reserve 1/3 cup chickpeas, mashing them just slightly. This will give a little different texture to the salad.
5. Use a hand-held potato masher or a fork to mash the remaining chickpeas into small pieces.
6. Combine them with the reserved all chickpeas and then with the celery/onion/walnut/red onion mix.
7. Stir together the mayonnaise with the garlic powder, curry powder and smoked paprika and whisk to combine.
8. Mix chickpeas with half of the dressing. Continue to add and mix in dressing until the desired consistency is reached.
9. Serve this without a croissant on a bed of greens for a gluten-free dish. To make a croissant sandwich, cut across the equator on a croissant bun, starting on the highest side, to make a pocket. Stuff with garden Waldorf salad and serve.
Per serving: 362 calories; 30g fat; 4g saturated fat; 14mg cholesterol; 6g protein; 19g carbohydrate; 2g sugar; 5g fiber; 536mg sodium; 50mg calcium