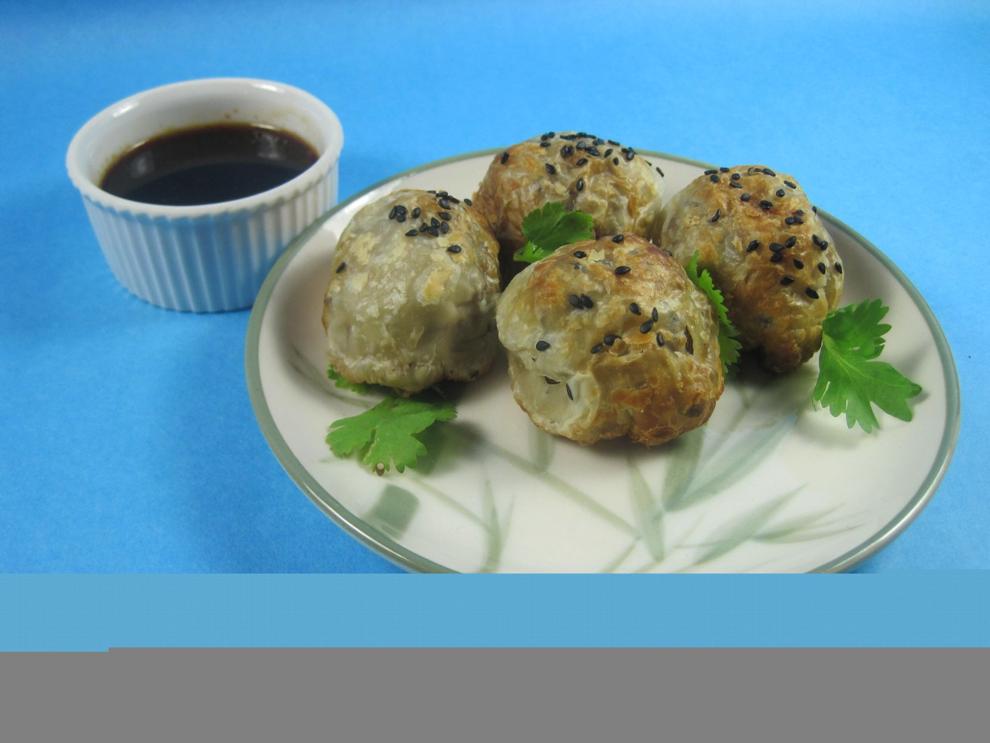 Yield: 20 large or 40 small meatballs
6 ounces fresh mushrooms, any kind
¼ bunch fresh cilantro (leaves only)
2 tablespoons hoisin sauce
1 ½ teaspoon ground ginger
1 ½ teaspoon granulated garlic
½ teaspoon salt or to taste
½ teaspoon pepper or to taste
5 sheets Pepperidge Farm frozen puff pastry (it comes 2 sheets to a box)
1 ½ teaspoons sweet Thai chili sauce
1 teaspoon toasted black sesame seeds for garnish, optional
1. Preheat oven to 350 degrees.
2. Clean mushrooms with a damp paper towel, trim the stem end and quarter each mushroom.
3. Combine cut mushrooms, cilantro leaves, hoisin, fish sauce, ginger and granulated garlic in the bowl of a food processor and pulse, scraping down the sides, until the mixture resembles medium fine crumbs. It should retain texture and not be a puree.
4. Transfer to a large mixing bowl, then add pork, 1 egg, breadcrumbs, salt and pepper then mix to blend.
5. Portion and shape the meat mix into 20 large or 40 small meatballs. Bake in the oven for 18 minutes for the larger meatballs; 14 minutes for the smaller meatballs.
6. The meatballs may be made a day ahead of time and refrigerated before wrapping.
7. To wrap and bake the meatball, preheat the oven to 400 degrees.
8. Follow the package directions on the puff pastry box for thaw times.
9. Line 2 baking sheets with parchment paper.
10. Mix 1 egg with 1 teaspoon cold water to make the egg wash for the wrapped meatballs.
11. Lightly flour the counter or board before taking out the puff pastry.
12. Using a pizza cutter, cut the pastry down the center lengthwise, then into equal thirds across the pastry. Place a meatball in the center and pull the corners to the center, placing a small amount of egg wash to help seal the pastry. Work the excess dough around to the back for a smooth top and secure with a small amount of egg wash. Place balls smooth side up on prepared sheets, leaving about a half an inch space between them.
13. Repeat with all meatballs, then brush tops and sides lightly with egg wash. Bake for 19 to 22 minutes, checking often. The tops should be nicely browned.
14. While they are baking, make the dipping sauce. Combine soy sauce, rice wine vinegar, ginger powder and chili sauce in a small deep bowl and whisk to blend. Store covered in the refrigerator.
15. Remove meatballs from oven, if desired, sprinkle with black sesame seeds, and serve with dipping sauce.
Alternate method using pastry shells with smaller meatballs: Warm up the meatballs. Place one each in phyllo cups and follow directions to crisp them in the oven. Follow bake times on packages to finish. Top with a sprig of cilantro.
Per serving (based on 20): 141 calories; 9g fat; 3g saturated fat; 39mg cholesterol; 7g protein; 7g carbohydrate; 1g sugar; 1g fiber; 264mg sodium; 15mg calcium