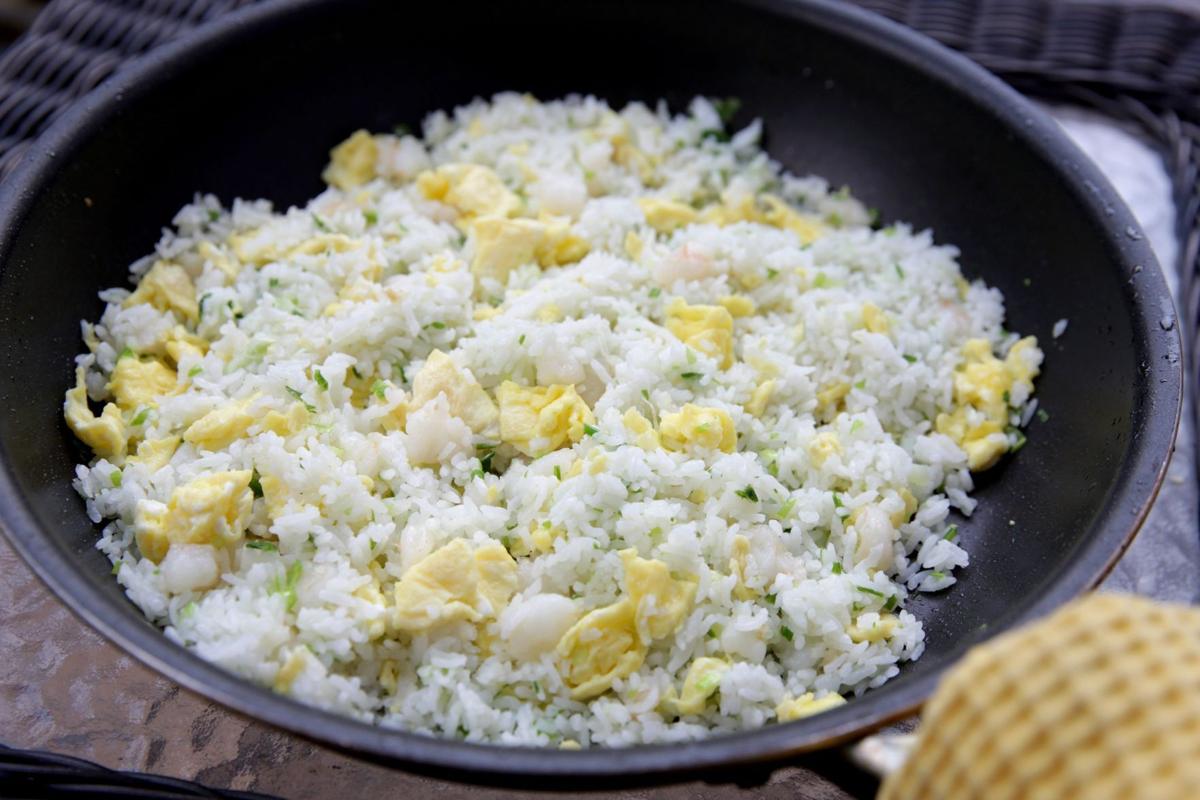 1 to 1½ teaspoons salt, divided
2 teaspoons cornstarch dissolved in 1 tablespoon plus 1 teaspoon water
5 tablespoons oil, divided
3½ cups cold cooked long-grain rice (1 cup uncooked)
2 large scallions, finely chopped
1. Add ¼ teaspoon of the salt to the cornstarch-and-water mixture. Shell the shrimp and devein if large. Cut into ½-inch pieces. Mix with the cornstarch coating.
2. Heat a wok or a large, heavy skillet over high heat until hot; add 2 tablespoons of the oil, swirl and heat for 10 seconds. Turn heat to medium, scatter in the shrimp and stir them briskly for about 1½ minutes or until they are pink and firm. Pour into a dish and set aside.
3. Stir ¼ teaspoon of the salt into the beaten eggs. Clean the pan and set it again over high heat; heat until very hot, then add the remaining 3 tablespoons oil, swirl and heat until very hot. Pour in the eggs, and as they puff around the edges, push the mass with a spatula to the far edge of the pan as you tilt the pan toward you, letting the runny eggs slide onto the hot surface. Push and tilt the eggs until they are no longer runny, but soft and fluffy. Give them one big whirl and scrape into a dish.
4. Set the pan over medium heat — you don't need any more oil. Add the rice, and toss with a spatula for 1 minute to heat it through. Sprinkle in the remaining ½ to 1 teaspoon salt to taste; add the scallions and stir rapidly to mingle. Add the shrimp and eggs and stir rapidly in turning and folding motions for about 1 minute, until the eggs are in small pieces and well-mingled with the rice and shrimp.
Per serving (based on 4): 437 calories; 22g fat; 4g saturated fat; 230mg cholesterol; 20g protein; 41g carbohydrate; no sugar; 1g fiber; 1,231mg sodium; 73mg calcium
Adapted from "The Key to Chinese Cooking" by Irene Kuo