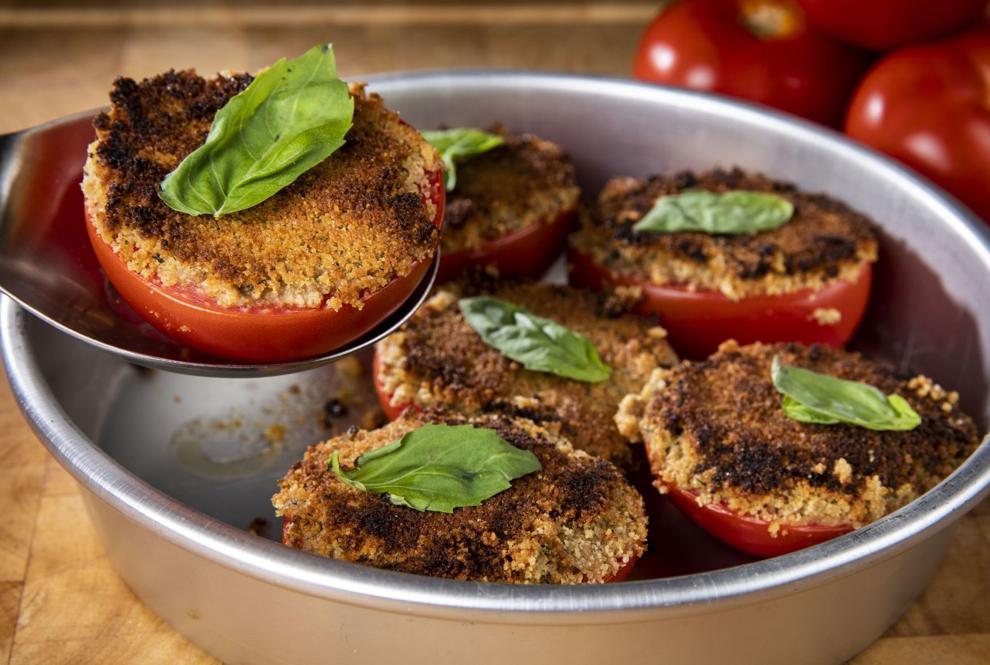 4 medium to large almost-ripe tomatoes, cut in half horizontally
½ cup vinaigrette, such as basil vinaigrette (recipe follows)
4 tablespoons (½ stick) butter
1 cup Italian-seasoned bread crumbs
4 or 5 sprigs fresh basil, for garnish
2. Arrange the tomato halves cut side up on a baking sheet. Sprinkle with salt and white pepper. Spoon 1 tablespoon vinaigrette over each half.
3. Melt the butter in a small saucepan over medium heat, and add the bread crumbs. Stir to coat and remove from the heat; do not brown. Divide the crumbs over the tomato halves.
4. Broil 4 to 5 inches from the heat for several minutes to heat through and brown the crumbs. Serve hot, at room temperature or cold. Garnish with the fresh basil.
Per serving: 241 calories; 21g fat; 6g saturated fat; 16mg cholesterol; 2g protein; 12g carbohydrate; 3g sugar; 1g fiber; 689mg sodium; 33mg calcium