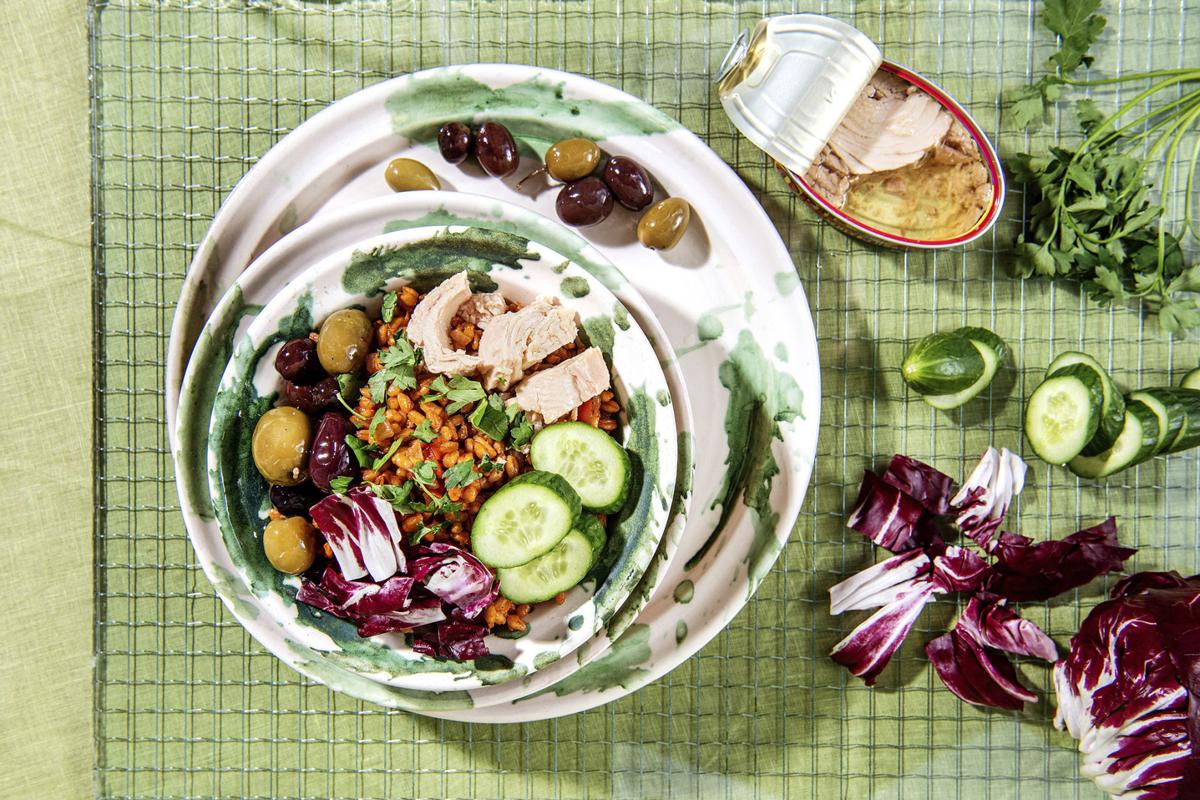 3 tablespoons extra-virgin olive oil, plus more
1 small onion, finely diced
1 small red bell pepper, finely diced
1 teaspoon hot pimentón (smoked paprika)
2 tablespoons sherry vinegar, plus more
1 can (11.5 ounces) tomato juice concentrate (1 ½ cups)
2 tins (4 ounces each) high-quality tuna packed in olive oil
1 small radicchio, cored and chopped
1 Persian or other mini cucumber, sliced
¼ cup chopped flat-leaf parsley
1. Heat the oil in a large saucepan over medium heat. Add the onion and bell pepper, season with salt and cook, stirring occasionally, until a little tender, about 5 minutes.
2. Add the garlic, paprika and a pinch of salt and stir well for 1 minute. Raise the heat to high and stir in the farro. Add the vinegar and cook, stirring, until the acidic smell burns off. Add the tomato juice and 1 ¼ cups cold water. Cover and bring to a boil. Reduce the heat to low and simmer, stirring and scraping the bottom of the pot occasionally, until the farro is tender and the water is absorbed, 20 to 25 minutes.
3. Remove from the heat and let sit covered for 10 minutes. Gently fold the farro to evenly mix all the ingredients, then let cool to room temperature.
4. Divide the farro among bowls and top with the tuna, olives, radicchio, cucumber and parsley. Drizzle with olive oil, then splash with a little vinegar and sprinkle lightly with salt before serving.
Satisfy your cravings
With our weekly newsletter packed with the latest in everything food.