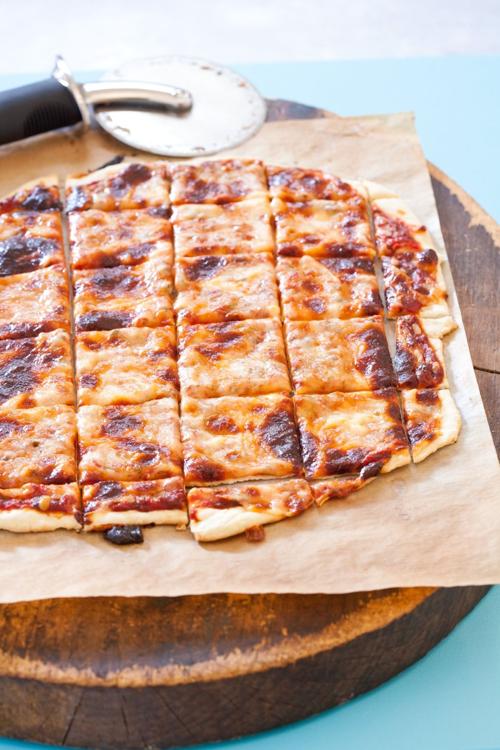 Yield: 2 (12-inch) pizzas (8 servings)
1 (8-ounce) can tomato sauce
3 tablespoons tomato paste
2 tablespoons chopped fresh basil
1 tablespoon granulated sugar
2 tablespoons dried oregano
For the cheese (see note):
2 cups shredded white American cheese
1/2 cup shredded Monterey Jack cheese
2 teaspoons granulated sugar
1/2 cup plus 2 tablespoons water
1. Adjust an oven rack to the lower-middle position. Place a pizza stone or an inverted baking sheet on the rack. Preheat the oven to 475 degrees.
2. Prepare the sauce. Whisk together tomato sauce, tomato paste, basil, 1 tablespoon sugar and oregano in a small bowl. Set aside.
3. Prepare the cheese. Toss American and Monterey Jack cheeses with liquid smoke in a medium bowl. Set aside.
4. Prepare the dough. Combine flour, cornstarch, 2 teaspoons sugar, baking powder and salt in a large bowl. Combine water and olive oil in a measuring cup. Stir water mixture into flour mixture until dough starts to come together. Turn dough onto lightly floured surface and knead 3 or 4 times, until cohesive.
5. Divide dough into 2 equal pieces. Working with 1 piece of dough at a time, press into a small circle and transfer to a sheet of parchment paper dusted lightly with flour. Using a rolling pin, roll and stretch dough into a 12-inch circle, rotating parchment as needed. Lift parchment off work surface and onto an inverted baking sheet.
6. Top each piece of dough with half of the sauce and half of the cheese. Carefully pull one sheet of parchment paper and pizza off a baking sheet and place on the hot baking stone. Bake until underside of crust is golden brown and cheese is completely melted, 9 to 12 minutes. Meanwhile, roll out the remaining dough and top with sauce and cheese.
7. When first pizza is done, transfer to a cooling rack and let cool for a few minutes. Bake second pizza. Cut pizzas into 2-inch squares and serve.
Note: Substitute 2 1/2 cups of provel cheese, if available, for the cheese mixture. The dough can be made in advance; tightly wrap in plastic and refrigerate for up to 2 days.
Per serving: 310 calories; 15g fat; 8g saturated fat; 35mg cholesterol; 12g protein; 33g carbohydrate; 12g sugar; 2g fiber; 870mg sodium; 100mg calcium.
Recipe developed by Meghan Erwin of Cook's Country magazine