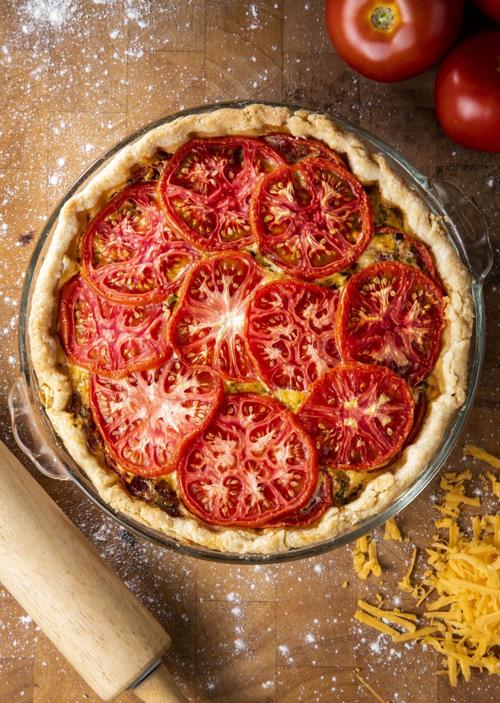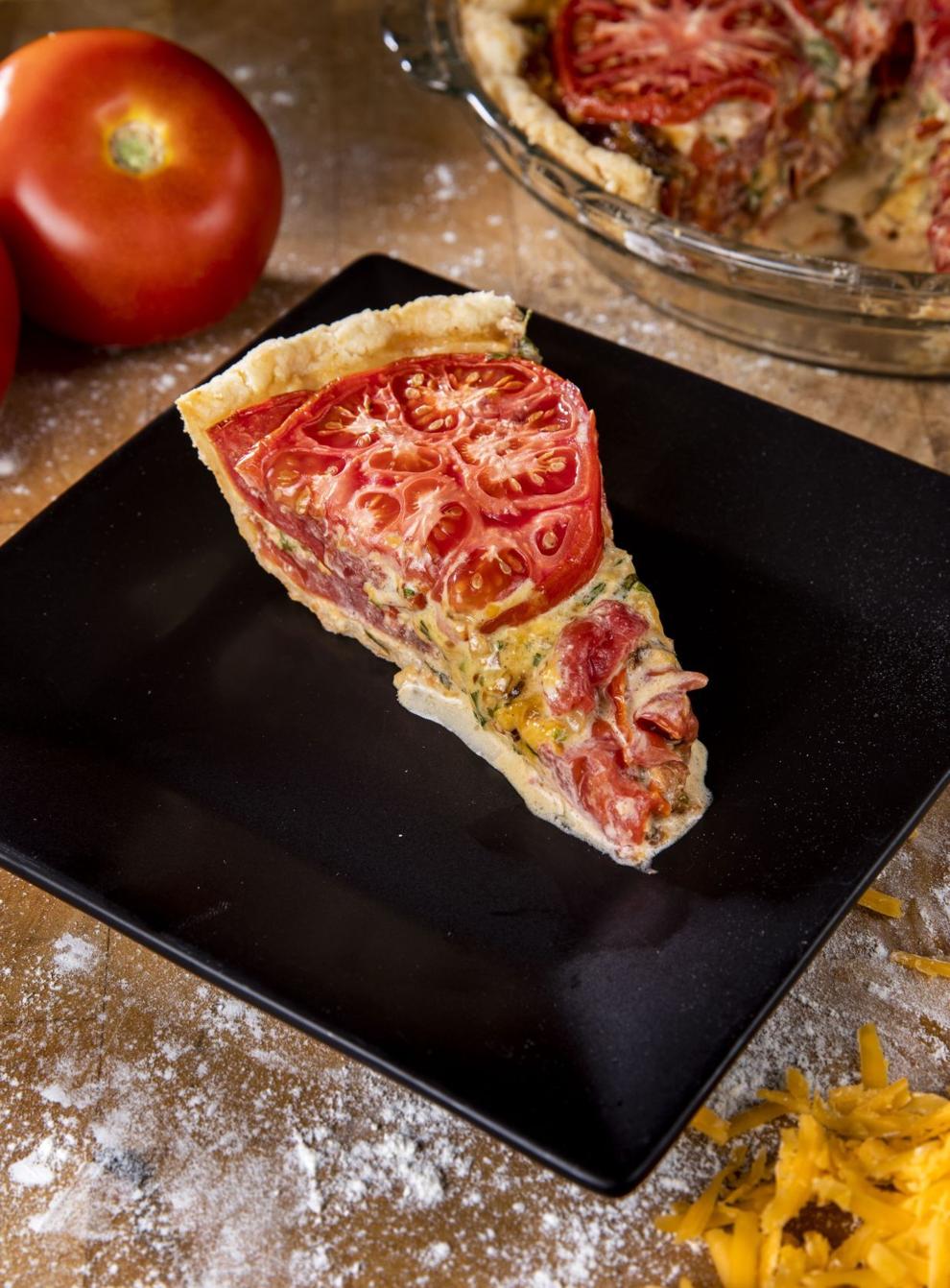 6 thick-cut bacon slices, diced
2 garlic cloves, finely chopped
6 ounces (about 1½ cups) aged extra-sharp cheddar cheese, grated
½ cup chopped fresh basil
¼ cup thinly sliced fresh chives
1 tablespoon Dijon mustard
1 (9-inch) unbaked pie crust, your favorite
1. Preheat oven to 400 degrees.
2. Cut tomatoes into ½-inch-thick slices. Place about 7 or 8 slices (enough to cover top of pie) on a baking sheet lined with paper towels, and sprinkle with ¼ teaspoon of the salt. Cover with additional paper towels, and reserve.
3. Arrange remaining tomatoes in a single layer on a lightly greased wire rack set on a large baking sheet. Sprinkle with ½ teaspoon of the salt. Bake until wilted and slightly dried out, 40 to 45 minutes. Cool completely, about 1 hour.
4. Meanwhile, cook bacon in a skillet over medium-high until fat is beginning to render, 4 to 5 minutes. Add chopped shallots, and cook until bacon is crisp and shallots are caramelized, 6 to 7 more minutes. Stir in garlic; cook until fragrant, about 1 minute. Using a slotted spoon, transfer bacon mixture to a plate lined with paper towels to drain. Cool 20 minutes.
5. Stir together cheese, mayonnaise, basil, chives, Dijon and egg until combined. Sprinkle with pepper to taste and remaining ¼ teaspoon salt. Fold in bacon mixture.
6. Gently spread a third of cheese mixture into pie crust; layer with half of the roasted tomato slices in slightly overlapping pattern. Spread another third of cheese mixture on top of tomato slices. Repeat with remaining roasted tomato slices and cheese mixture. Top with reserved sliced fresh tomatoes, pressing filling gently into crust. Shield edges of pie with aluminum foil.
7. Bake in preheated oven until filling is set, 45 to 60 minutes. Transfer to a wire rack, and let stand 1 hour before serving. Sprinkle with basil and chives.
Per serving: 440 calories; 34g fat; 11g saturated fat; 64mg cholesterol; 11g protein; 23g carbohydrate; 5g sugar; 3g fiber; 840mg sodium; 183mg calcium