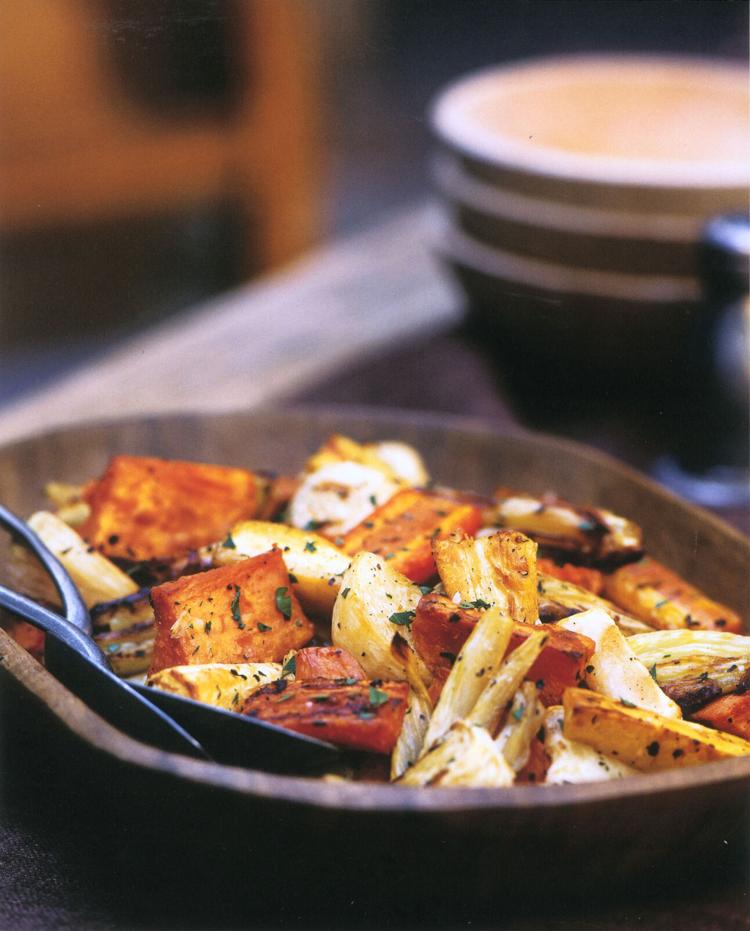 Roasted winter vegetables are my go-to side dish for holiday meals. They are Seriously Simple to put together and the cooking process requires only high-heat roasting and turning them a few times. All the vegetables are evenly cut, so they will come out done at the same time. The fennel may take a bit longer to cook, so taste it to make sure it is soft and caramelized; otherwise it can taste woody. One way to make sure the fennel cook at the same time is to slice it into thinner pieces (see following recipe) so all the veggies are done together.
High-heat roasting produces a crisp outer skin and moist inner flesh. Root vegetables are high in natural sugars and caramelize as they roast. Use a large roasting pan to give the vegetables plenty of room for even roasting; stir a couple times to brown the vegetables uniformly and prevent sticking. You can add 1/2 pound tiny potatoes to this mélange. The potatoes make this an all-in-one holiday vegetable side dish. This colorful winter vegetable mix complements chicken, turkey, pot roast or brisket.
Roasted Root Vegetables
Serves 4 to 6
1 fennel bulb, stalk removed and cut into1-inch slices
2 turnips, peeled and cut into 2-inch pieces
3 carrots, peeled and cut into 2-inch chunks
2 parsnips, peeled and cut into 2-inch pieces
1 yam, peeled and cut into 2-inch pieces
3 tablespoons olive oil
1 teaspoon finely chopped fresh thyme
Salt
Freshly ground black pepper
2 tablespoons finely chopped parsley
1. Preheat the oven to 400 F. In a large roasting pan, combine the vegetables with 2 tablespoons of the oil and toss to evenly coat. Add the thyme, salt and pepper, and mix well, being sure to coat all the vegetables evenly.
2. Place the roasting pan in the oven and roast for 30 minutes, turning the vegetables every 10 minutes. Add the remaining 1 tablespoon of oil and continue roasting for 30 more minutes, continuing to stir occasionally. The mixture should be brown and caramelized.
3. Taste the vegetables for doneness and seasoning, spoon them into a large serving bowl and garnish with parsley. Serve immediately.
Advance preparation: The dish can be prepared up to 8 hours ahead, kept at room temperature and reheated in a 350 F oven for about 20 minutes.
(Diane Rossen Worthington is an authority on new American cooking. She is the author of 18 cookbooks, including "Seriously Simple Parties," and a James Beard Award-winning radio show host. You can contact her at www.seriouslysimple.com.)
A weekly treasure trove of tastiness, featuring reviews from restaurant critic Ian Froeb and how-to videos by food writer Dan Neman.