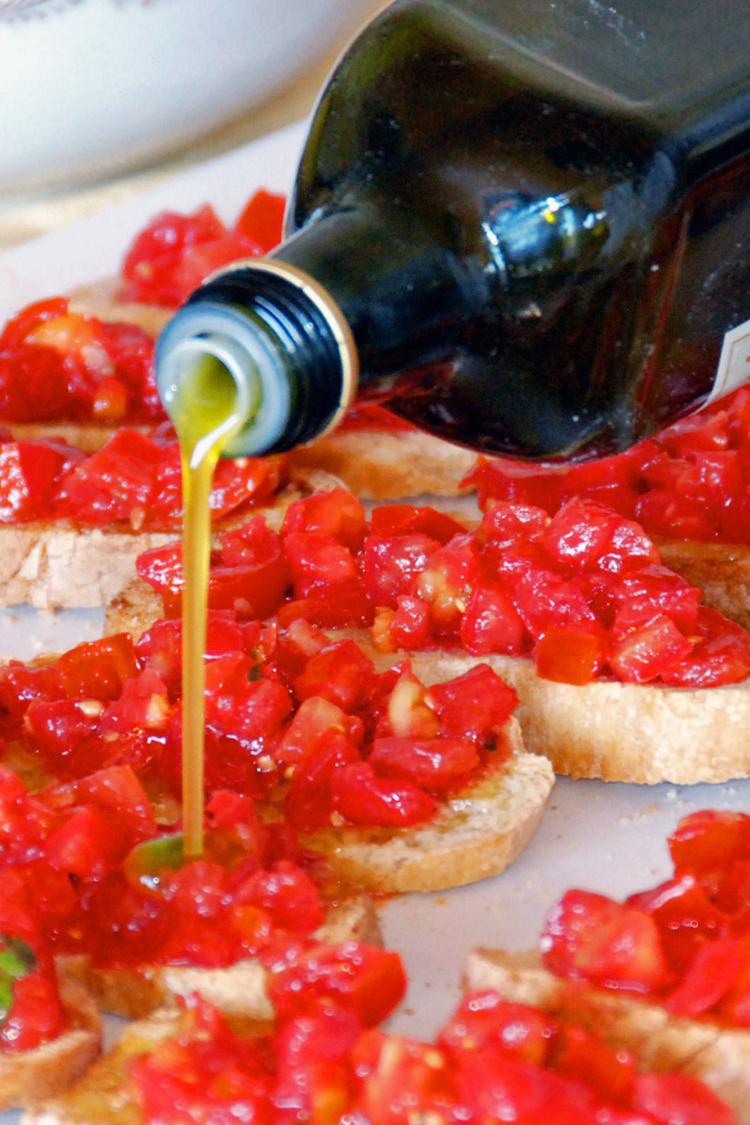 The coronavirus has put a stop to traveling to Italy and many other places. But that doesn't mean you can't enjoy the pleasures of Italy in your own home! Coleen Kirnan and Rhonda Vilardo, the owners and hosts of "Tuscan Women Cook," the unique and popular culinary vacation located in the heart of Tuscany, want to bring a bit of Italy to our home kitchens during our time of quarantine.
"Tuscan Women Cook" is about celebrating the food and culture of the charming village of Montefollonico, nestled in the Tuscan region of Italy. I hope you enjoy their recipe for tomato topped bruschetta along with the Italian classic cocktail, an Aperol Spritz.
Bruschetta is an Italian antipasto of grilled bread rubbed with garlic and topped with a mixture of tomato and basil. It's perfect for using summer tomatoes for a simple appetizer or side dish. Cherry tomatoes work nicely when you can't find ripe red tomatoes.
This is a great recipe for an old, not stale, baguette. Dry the baguette in the oven, if necessary. Save any leftover tomato mixture for the base of a delicious tomato soup or as a topping on grilled fish or chicken.
Until we can visit these hosts of "Tuscan Women Cook," prepare these items at home and enjoy them in your garden in late afternoon or with friends at cocktail hour online.
Bruschetta with Cherry Tomatoes and Basil
1 pint cherry tomatoes, quartered or diced, lightly squeezed to remove seeds and excess water
4 garlic cloves, two minced and two sliced for the bread
4 to 5 large basil leaves, chiffonade cut
1 small fresh or dried peperoncino (Italian chile pepper) or a pinch of crushed red pepper flakes
1 baguette, dried, sliced 1/4-inch on the bias
1/3 cup or more of quality extra-virgin olive oil
1. Mix the tomatoes, minced garlic, basil, peperoncino, salt and pepper. Refrigerate for one hour to allow the flavors to meld together.
2. Lightly grill or toast the bread slices. Peel and slice the remaining garlic cloves. Lightly run the sliced garlic over the surface of the bread.
3. Place bread on a serving plate and cover each with the tomato mixture. Drizzle lightly with olive oil.
Aperol Spritz
1 1/2 large orange slices
Prosecco
Aperol
Club soda
1. Fill a large wine glass with ice to the top.
2. Add a slice of orange to glass.
3. Fill the glass with one-third each Prosecco, Aperol and club soda. Mix carefully with a straw, sweeping slowly from the bottom to top so as not to disturb the bubbles.
4. Add another half slice of orange to rim for garnish, and serve.
(Diane Rossen Worthington is an authority on new American cooking. She is the author of 18 cookbooks, including "Seriously Simple Parties," and a James Beard Award-winning radio show host. You can contact her at www.seriouslysimple.com.)