Another day of the pandemic. Another thousand meals to prepare.
OK, not literally. But it sure feels that way sometimes.
A study conducted by Hunter, a public relations firm serving the food and beverage industries, found that 54% of Americans are cooking more now than before the coronavirus pandemic.
As food supplies have been affected — remember the picked-clean supermarket shelves of a few months ago? — home cooks have gotten creative, reaching for nonperishable pantry options. We're also pinching our pennies more.
Spam in particular is enjoying a resurgence. According to a Bloomberg report, sales of Hormel's cooked, canned pork product spiked more than 70% in one 15-week period ending in June.
Growing up, Spam and bologna were regularly on the menu in my house, often fried and served with green beans and potatoes. Vienna sausages were an after-school snack — straight from the can, usually slathered with mustard, wrapped in a slice of white bread.
My mom is an excellent cook, but busy schedules necessitated quick solutions.
Incidentally, those became some of my favorite meals — comfort food that takes me back in time.
My grandpa made regular visits to the local butcher and introduced me to braunschweiger when I was a kid. He wisely did not disclose that it was made from liver. (He was also known to scoop out and devour bone marrow before that became trendy. Hard pass.)
Fueled by nostalgia, my editor and I set out to learn more about some of the canned, processed meats of our youth. We grew up just miles apart in southeast Missouri and frequently swap eerily similar stories about childhood. We also wanted to find ways to elevate the usual preparation techniques.  
In St. Louis, Thomas "Buzz" Moore is a Spam authority.
"I feel like we're kind of Spam experts because we spend so much time with it," says Moore, owner of the Buzz's Hawaiian Grill food truck.
He served in the military and was stationed in Hawaii, where Spam is a staple. In the 1980s, he returned to his native St. Louis and was surprised by the lack of Hawaiian food available here.
He started his truck in 2016. Many dishes feature Spam, but it's also available as an add-on.
"Hawaii has been a canned-food state dating to World War II because of food-shortage problems," he says. "When the food shortage started due to COVID, we started stocking up on a lot of our stuff so that, if there was going to be a shortage, we'd have food supplies to get us through. We are experiencing right now a Spam shortage."
Ordinarily, Moore says, his truck would serve seven to eight meal shifts each week, using about 32 standard-size cans of Spam. During the pandemic, the truck goes out two to three days a week.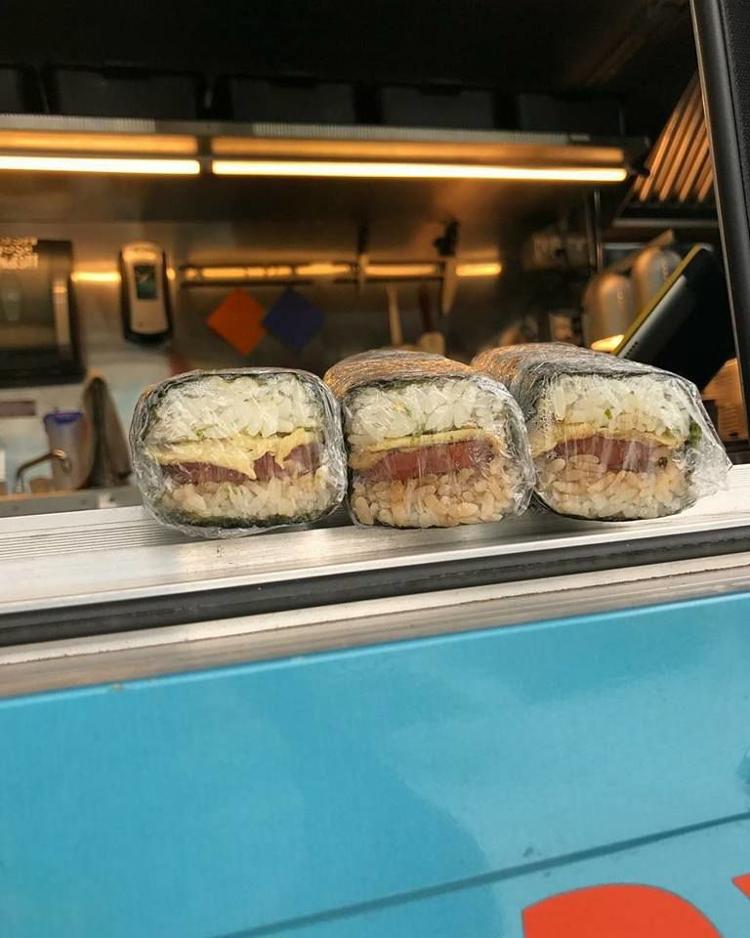 Moore says lots of his customers are having their first encounter with Spam at his truck. One of his favorite and most popular menu items is musubi, sometimes called Spam sushi: rice, a sweet egg pancake and a slice of Spam wrapped in nori.
"In Hawaii, musubi is huge," he says. "7-Eleven sells it. You walk in, you get your morning coffee and you get a musubi to go. That's the Hawaiian lifestyle."
When Moore started Buzz's Hawaiian Grill, he cut the musubi into quarters and handed them out for free. "Nobody was buying them," he says. After educating diners about the dish, it has taken off — and regularly sells out.
Moore didn't grow up eating Spam. Now, he says, he cooks it at home all the time — even at breakfast.
"It's better than bacon," he says.
On his truck, he uses a device similar to an egg slicer that can chop a hunk of Spam into 10, ⅜-inch slices. Then the meat is fried.
"If you get it too thin, it just dries out," he says. "If you get it too thick, it just stays too meaty."
Frying the Spam in a teriyaki marinade produces a deliciously gummy piece of meat. "You go to a high-end restaurant, and they have candied bacon, and everybody says 'this is the best thing ever,'" Moore says. "Well, Spam marinated in a teriyaki sauce — you're getting basically the same thing, except the teriyaki doesn't harden like sugar does."
Some people may turn up their noses at Spam, he says, "but you really have to try it. People try to eat it raw — just cut it up and eat it — and they go, 'ugh, this is slimy, this is gross.' You didn't prepare it correctly."
Rick Lewis, who owns Grace Meat + Three in the Grove neighborhood, has featured housemade Spam at his restaurant. 
"We formed it, vacuum-sealed it and then cooked it sous vide, so it would have that Spam texture, and chilled it down," he says. "We did the Spam rolls, Spam and eggs for brunch."
At home, he makes a hot pot with a spicy broth, bok choy, mushrooms, seafood, bacon and Spam.
On hunting trips, he enjoys fried Spam and eggs. Begin by melting a tab of butter in a skillet over medium-high heat. Add thyme, garlic and a bay leaf, and allow them to release their oils. Add ¼-inch Spam slices, and fry in the brown butter. Remove the Spam, and crack eggs into the skillet. Baste the eggs in the butter essenced with Spam, thyme and garlic.
"It seems kind of obscene," he says. "That's a pretty good breakfast."
Before opening Grace in 2018, Lewis was the chef at Quincy Street Bistro and then a co-owner and chef at Southern. At all three restaurants, he has featured a fried bologna sandwich.
"It's gone through some different iterations, but it's popular," he says. "You get people who are pumped about it, and then you get people on the other side of the spectrum who are like, 'Why would I go to a restaurant and then order that?' But they don't understand right away that it's not your typical, like, Oscar Mayer sandwich."
He describes the bologna as country style — a blend of diced and coarse-ground, brined pork seasoned with nutmeg, garlic, white pepper and mustard, smoked over oak and cherry.
"It's got a little more texture than your smooth, emulsified-style bologna," Lewis says.
The housemade bologna, sliced thick — between ½-inch and ¾-inch — separates Grace's sandwich from others.
"When you fry it, you're gonna get a nice, thick crust layer of crunchy, golden-brown, fried goodness," he says. "I think that's important. If you're using a softer emulsified bologna, you would need to score it (at the edge) to keep it from cupping up so much."
He garnishes the sandwich with pickles, spicy mustard, pimento cheese and a fried egg. "It's just kind of over the top," he says.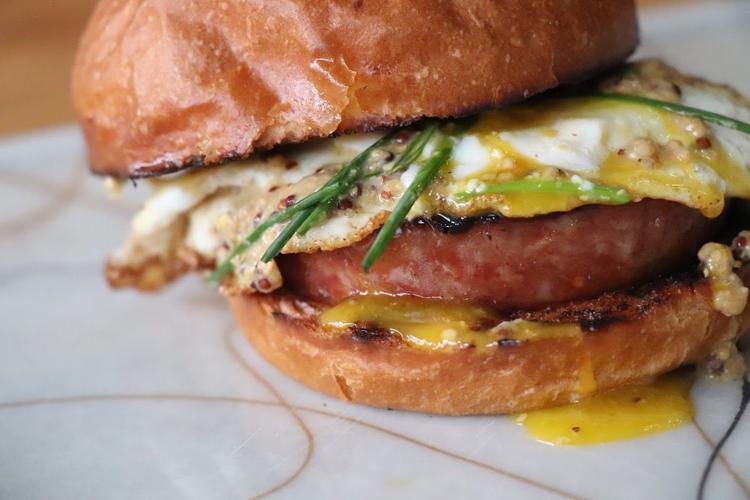 "My mom was a really good cook, but yeah, we ate a lot of bologna growing up," Lewis says. "It was a camping trip thing — you've got this skillet, a campfire, and we would just fry that stuff up. And whether you're eating it for lunch or breakfast or whatever, it was really good."
Another of Lewis' favorites is braunschweiger, which is heavier on liver and fat than on pork. "When you smoke it, it's almost spreadable," he says.
"It was a way to try to use the entire animal, basically," he says. "We get whole animals at Grace, and we did at Quincy, and you're always left with these off kind of cuts, and we want to make them tasty for people who might not want to eat liver. They order it and really enjoy it."
When customers at Grace aren't sure what to order, Lewis often suggests the fried bologna or a similar special.
"They kind of give you this look," he says. "I would just be like, 'Look, you're kind of on edge about the sandwich. You get the sandwich, and it's guaranteed. If you don't like it, we'll get you something else.' And they'll order it and then fall in love with the thing."
Uncanny comfort food: 4 recipes that elevate processed meats 
Bow-Tie Pasta With Vienna Sausages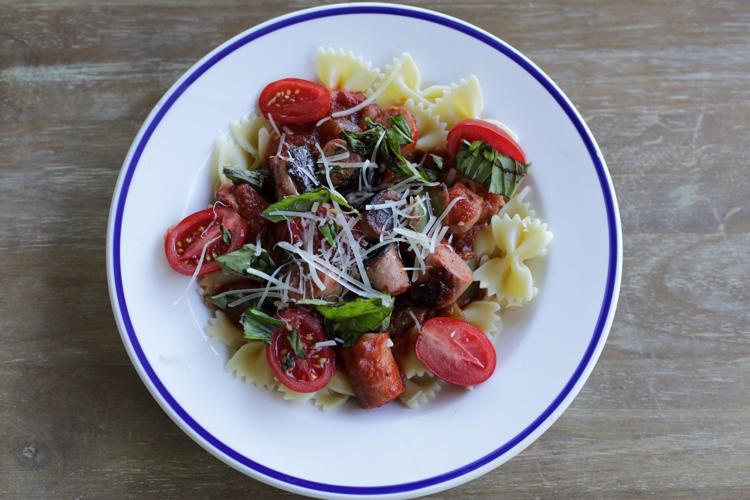 4 teaspoons vegetable oil
4 (4.6 ounce) cans Vienna sausages
1 yellow onion, peeled and diced
1 green bell pepper, cored, seeded and diced
1 (28-ounce) can tomato sauce
Freshly ground black pepper
1 teaspoon red pepper flakes, more or less to taste
1 pound bow-tie pasta, cooked according to package directions
Grape tomatoes, halved, optional
Shredded Parmesan, optional
1. In a large cast-iron skillet, heat vegetable oil on high.
2. Cut Vienna sausages into thirds. Add to skillet. Cook 8 to 10 minutes until they start to brown or even get a little charred on the outside. Add onion and bell peppers; cook 5 minutes. Add garlic, cook 1 more minute. Be careful with stirring because Vienna sausages tend to break up.
3. Add tomato sauce, bring to a boil. Reduce heat and let simmer. Add freshly ground black pepper to taste and 1 teaspoon red pepper flakes, more or less depending on how spicy you like it. The sausages' high salt content means you probably won't need to salt, but taste to be sure.
4. Spoon a cup of cooked pasta into 8 shallow bowls, then top with sausages and sauce. Add optional ingredients: chopped basil, halved grape tomatoes and shredded Parmesan.
Per serving: 419 calories; 16g fat; 7g saturated fat; 52mg cholesterol; 17g protein; 56g carbohydrate; 7g sugar; 4g fiber; 598mg sodium; 105mg calcium
Spam Fried Rice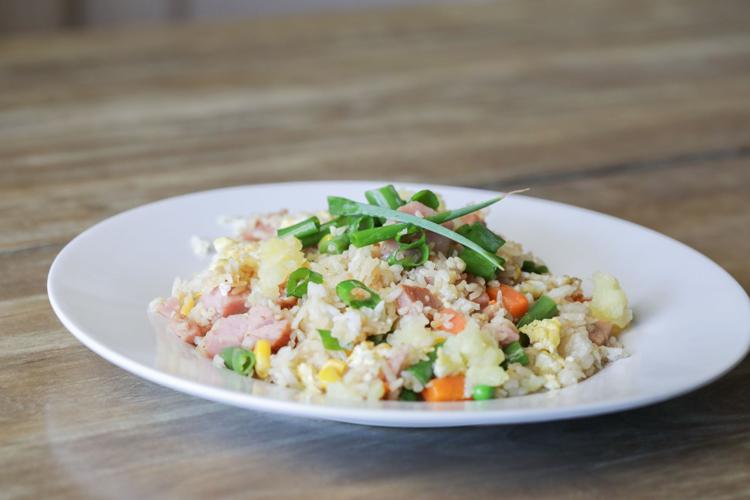 2 tablespoons vegetable oil, divided
½ cup frozen diced carrots
Sriracha, for serving, optional
1. Heat 1 tablespoon vegetable oil in a large skillet over low heat. Add eggs and cook until cooked through, about 2 to 3 minutes per side, flipping only once. Let cool before dicing into small pieces.
2. Heat remaining 1 tablespoon vegetable oil in the skillet over medium high heat. Add garlic and Spam, and cook, stirring often, until light golden brown, about 3 to 4 minutes.
3. Add corn, peas and carrots. Cook, stirring constantly, until vegetables are tender, about 1 to 2 minutes.
4. Add rice and gently toss to combine.
5. Add soy sauce, fish sauce, sesame oil and white pepper. Cook, stirring constantly, until heated through, about 1 to 2 minutes.
6. Stir in green onions, eggs and pineapple.
7. Serve immediately, drizzled with Sriracha, if desired.
Per serving: 423 calories; 17g fat; 9g saturated fat; 125mg cholesterol; 15g protein; 52g carbohydrate; 6g sugar; 2g fiber; 841mg sodium; 53mg calcium
Adapted from Damn Delicious
Fried Bologna and Egg With American Cheese Rarebit Sauce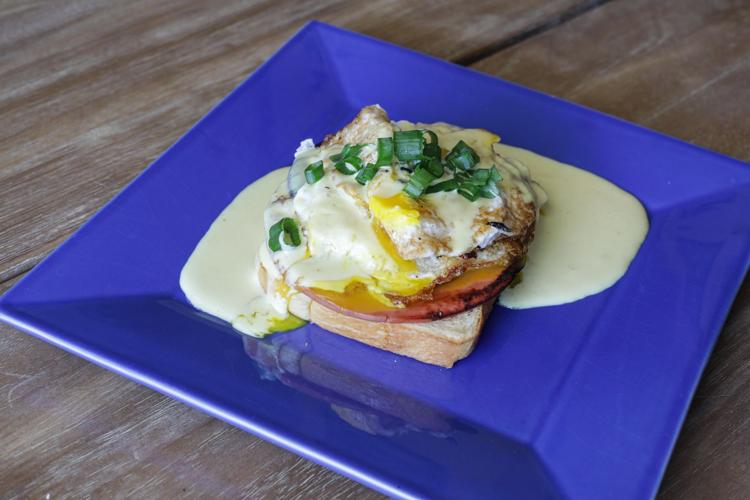 3 dashes Worcestershire sauce
¾ cup grated white American cheese
1 slice of brioche, toasted
1. Place a small saucepan over medium heat and add the cream and mustard. Bring to a boil and then reduce the heat. Add the Worcestershire, hot sauce and cheese. Stir to combine and continue to heat until the cheese is melted. Remove from the heat and keep warm.
2. Place a medium saute pan over high heat.
3. Fry 2 pieces of bologna in dry pan, about 2 minutes each side. Remove and place it on top of the toasted bread. Add oil to the same pan and cook egg to desired doneness. Place egg on top of bologna. Pour sauce (you will use about half) over the egg, then top with green onion.
Per serving: 521 calories; 35g fat; 13g saturated fat; 165mg cholesterol; 18g protein; 6g carbohydrate; 7g sugar; 1g fiber; 1513mg sodium; 331mg calcium
The Ultimate Braunschweiger Sandwich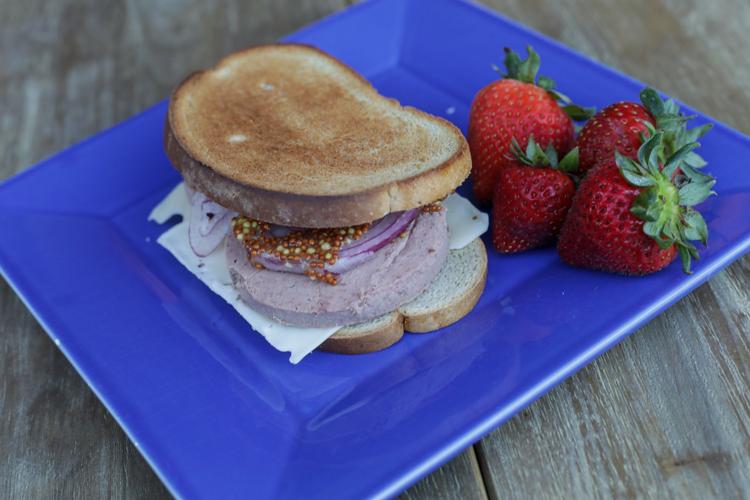 1 tablespoon whole-grain mustard
2 (¼-inch) slices braunschweiger
Toast the bread. Slather on mustard. Top with cheese, braunschweiger, onion, second piece of bread.
Per serving: 423 calories; 17g fat; 9g saturated fat; 125mg cholesterol; 15g protein; 52g carbohydrate; 6g sugar; 2g fiber; 841mg sodium; 53mg calcium