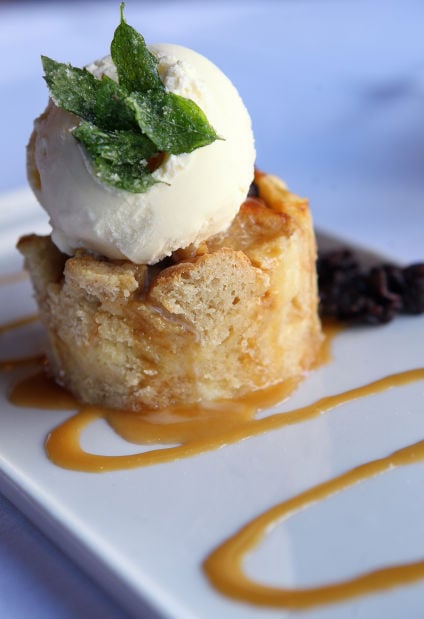 Q • The Bread Pudding at Sunset 44 in Kirkwood is the greatest! —Janetta Morgan, St. Louis
Q • Would you ask for Sunset 44's Bread Pudding recipe, soon please, so I can make it for Thanksgiving? — Margaret Hines, Creve Coeur
A • Sunset 44's Bob Menendez grew up in a restaurant family — his father and grandfather operated Pilot House Kitchens in south St. Louis. And now three of his six children with Bev Menendez, his wife of 39 years, and a daughter-in-law work at Sunset 44. The business, he says, is more than a job. "I'm thankful that God gave me a vocation." It takes a personal touch, he says. "You get to know the customers; they come back."
Pilot House was famous for fried chicken; one Memorial Day weekend, the restaurant served 50,000 chicken pieces in the five restaurants plus catered picnics. Sunset 44 continues the fried-chicken tradition, serving breasts seasoned first in a Spanish-style marinade.
All of Sunset 44's breads are made in-house, including homemade sourdough dinner rolls and laminated doughs like croissants. They are made from scratch with organic ingredients and without additives and preservatives. "I love to bake," Menendez says. "There's something medicinal about bread."
Josh Slaughter is Sunset 44's daytime pantry cook and remains a volunteer EMT and firefighter in his hometown of Warrenton. He jokes, "I've been in burning buildings cooler than this kitchen." For many years, Sunset 44 has been a training ground for young restaurant professionals. "Everyone who works here either has a culinary degree or is an apprentice," Menendez says.
Sunset 44 has called downtown Kirkwood home for 19 years, most recently at Adams Place with a Kirkwood rarity, adjacent private parking.
118 West Adams Street, Kirkwood
Special Request is written by Kirkwood resident Alanna Kellogg, author of the online recipe column KitchenParade.com and "veggie evangelist" at the food blog about vegetables, A Veggie Venture.