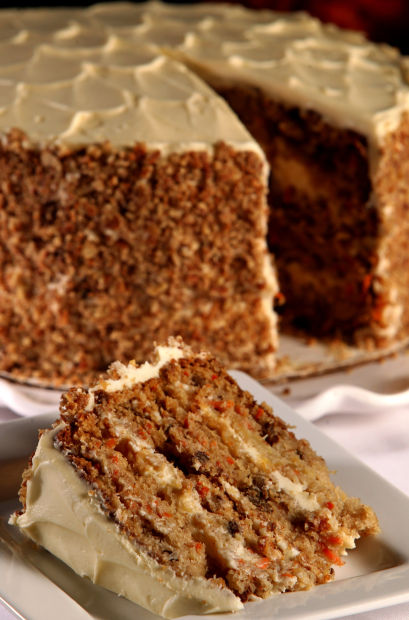 Q • Thanksgiving is around the corner, and I would like to serve the carrot cake from Tower Restaurant at Barnes-Jewish Hospital. It is moist, flavorful and nutty.
— Sandra Anderson, Black Jack
A • For a time, Eligiah "Pops" Wadley thought he might one day wear the white collar of a preacher. Instead, he says, he wears the white jacket of a baker at Barnes-Jewish Hospital, where he's worked for 31 years.
For many of those years, Wadley has been the go-to baker for the carrot cake served at the hospital's Tower Restaurant, Queeny Tower's 17th-floor restaurant, which offers a "little bit of normal" for patients and families with long hospital stays, says public relations manager Nicholas McLaren. The restaurant's tableside views of Forest Park offer a sort of sanctuary, a beautiful escape, he says.
At work, Wadley is known as "Pops" to his three fellow bakers and other kitchen staff, short for "Popsy," the nickname bestowed by a brother when Wadley was a kid. At home with his school sweetheart and now-wife Sonja, their four grown sons and six grandchildren, Wadley says, "They just call me 'Dad.'"
Wadley bakes from a splattered, scorched recipe card that scales from a single two- or four-layer cake up to 10 full-size sheet pans serving 700. The trick to this cake, he says, is to scrape the sides of the bowl while mixing and to avoid overmixing the cake batter. Any extra batter, he says, can be made into cupcakes.
Tower Restaurant is open to the public for lunch Monday through Friday except holidays. Carrot Cake is no longer on the menu but will be offered as a special through Nov. 15.
Special Request is written by Kirkwood resident Alanna Kellogg, author of the online recipe column KitchenParade.com and "veggie evangelist" at the food blog about vegetables, A Veggie Venture.