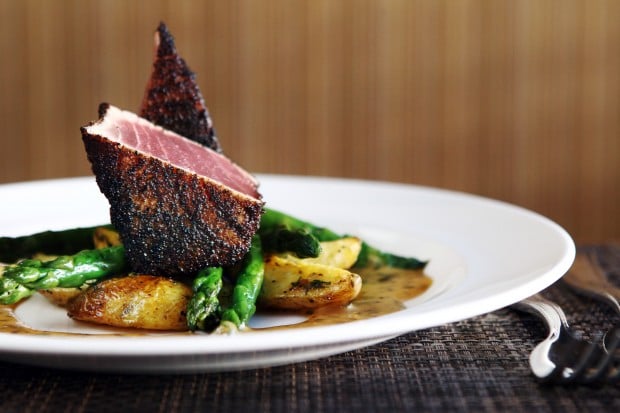 Q • I have gone to J. Gilbert's in West County Center several times and had the Char Crusted Ahi Tuna. Both the restaurant and the dish are consistently outstanding. — Nancy Novack, St. Louis
A • J. Gilbert's Wood-Fired Steaks & Seafood opened in Des Peres in late 2011. It's one of five restaurants flying the J. Gilbert's flag; the others are in Ohio, Virginia, Connecticut and the parent company's hometown of Kansas City. The company also owns numerous Houlihan's restaurants plus Bristol Seafood and Grill, where Char Crusted Ahi Tuna was first introduced.
Still, says managing partner Tripp Anway, who's been with the company for more than 30 years, "We don't like to think of ourselves as a chain restaurant. We don't think that way; we don't act that way."
Anway says that J. Gilbert's is a new-era steakhouse focused on comforts ranging from cushioned bar seats to a 14-foot eye-level fireplace to iced tea brewed tableside. "But we're not a tie place. We're comfortable, not stuffy, with a feel of elegance."
The steaks, Anway says, are the best he's tasted, a combination of prime beef, the seasoning and the mesquite wood used for grilling. The strip steak is Anway's personal favorite. "It's just so tender." Steaks and chops come with a choice of two sides, including the restaurant's award-winning poblano au gratin potatoes. In just a year, J. Gilbert's bar has become famous for Manhattans made with bourbon barrel-aged in-house.
Char Crusted Ahi Tuna is two pieces of barely cooked yellowfin tuna served atop roasted potatoes and asparagus, surrounded by a tawny-colored sauce called foyot — pronounced "foy-yo" — a classic béarnaise sauce flavored with a veal glaze.
Send the name and location of the restaurant and a description of the dish to RecipeRequest@post-dispatch.com. Restaurants featured in this column must be in the St. Louis area. Include your name and daytime phone number.
J. Gilbert's Wood-Fired Steaks & Seafood
17A West County Center, Des Peres
Special Request is written by Kirkwood resident Alanna Kellogg, author of the online recipe column KitchenParade.com and "veggie evangelist" at the food blog about vegetables, A Veggie Venture.