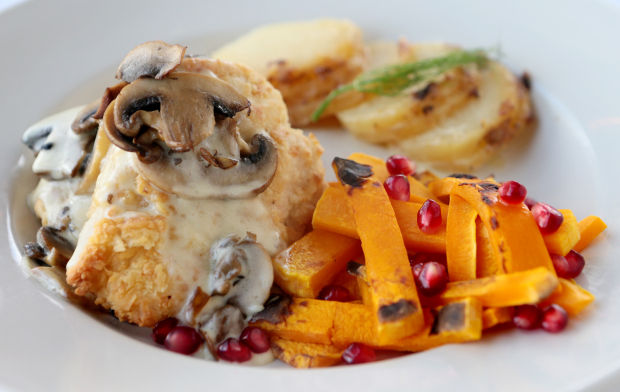 Q • We so often enjoy the Chicken Chardonnay at Surf & Sirloin in Des Peres. Could you obtain the recipe? — Sally Hunt, Kirkwood
A • In a multigeneration restaurant family, "philoxenia," the spirit of Greek hospitality, just might be inherited. Pronounced fee-lo-SEN-ee-a, the philosophy means that "we welcome people as strangers and turn them into friends," says Harry Karagiannis, one of three brothers running Surf & Sirloin after their parents' retirement earlier this year.
Harry minds the front of the house while older brother Stavros heads the kitchen and younger brother Vasili waits tables. "We all started young," Harry says. "When we were really little, we'd sleep in the booths until our parents got off work." Harry says that while the restaurant's tradition of high-quality, fresh food at a reasonable price remains the same, the new generation is placing its mark on the restaurant with the introduction of new menu items. Harry and Stavros are especially excited about a new appetizer, a Louisiana-style barbecue shrimp, even while retaining longtime favorites, including Famous-Barr's famous French onion soup.
While neither "surf" nor "sirloin," Chicken Chardonnay is a top seller at the restaurant, especially at lunch. "It's just delicious," says Harry of the moist, lightly breaded chicken breasts. "The sauce is velvety and little bit lemony." Stavros recommends using a tiny measure of concentrated chicken base, undiluted, in the mushroom sauce. Otherwise, he says, "The sauce turns out bland." He also recommends sticking with vegetable oil: butter would burn and olive oil would impart too much olive flavor and "just doesn't mix with cream."
---
13090 Manchester Road, Des Peres
Special Request is written by Kirkwood resident Alanna Kellogg, author of the online recipe column KitchenParade.com and "veggie evangelist" at the food blog about vegetables, A Veggie Venture.