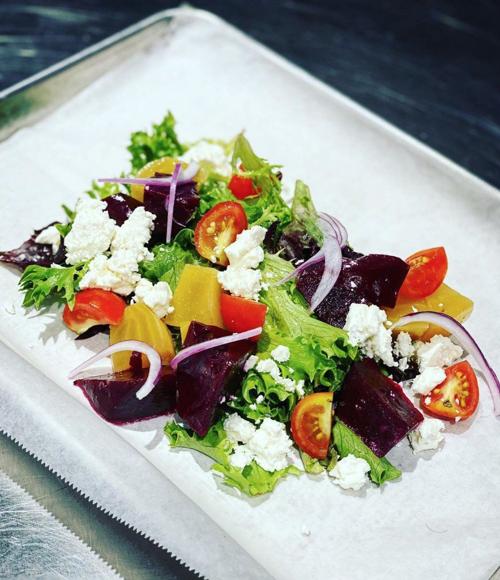 Q • I really like beets and enjoy them in a variety of ways. My friend told me about a great beet salad from Nomad with red and golden pickled beets. Could you get the recipe? — Angela Hopewell, Benton Park
A • This colorful beet salad pairs very well with the flavors of the smoked and grilled meats from Nomad. Red and golden pickled beets rest on a bed of tender lettuce topped with the thinnest slivers of red onion. Cherry and grape tomato halves lend a pop of sweetness and texture that balances nicely against the tart beets. Crumbles of feta cheese melt into the mix while the spot-on dressing pulls all the elements together at Nomad STL, a new sandwich shop in Dogtown.
Nomad is chef Tommy Andrew's much-anticipated first restaurant. He opened with packed dining rooms in February, only to shut down 20 days later because of the COVID-19 pandemic. Andrew developed the salad for the curbside and carryout menu he now serves on Fridays and Saturdays at Nomad during the downtime.
"I originally had pickled beets tossed in a mint pesto on the menu as a side item," he says. "When I switched to a limited menu, I wanted a larger salad. Nothing fancy, just a nice, bright salad." He switched things up and used the pickled beets as a jumping off point for his new salad. "It's nice to cut a meaty, rich sandwich like our pastrami with salad."
Talented chefs rely on premium ingredients and talented farmers. Andrew is no exception, but his connections for this salad are unusually close to home. "My uncle grows the spring lettuce mix we use for this salad," he says. "My whole family likes growing stuff. We all do gardens, and we're infamous for overdoing it, so my uncle just drops off bags and bags of lettuce. His tomatoes will be in soon, and I'll be using them for some nice menu items."
Andrew opened for curbside and carryout in May with pickup on Fridays and Saturdays with a generous limited menu, which is posted on Nomad's Facebook page. It is set up for easy ordering, payment and pickup.
During his forced break due to the pandemic, Andrew took time to reflect on how the opening went, reevaluating what happened, recognizing what works and learning how his restaurant runs best.
He also spent more time at home, cooking for his family and tending to things he'd had on his to-do list for a long time. "I've been cooking like a fool at home. We've been eating good," he says.
"I spent a lot of time working on my house, messing around in my garden, hanging out with my family. The chores, the hard work, is a de-stressor for me. I built a retaining wall, poured some concrete stairs. It's a good way to clear my head.
"We sold a lot of food in those first 20 days running a full house, and we're selling a lot of food now. We've gotten positive reviews on the food," he says. When the time is right to reopen the restaurant and patio, Andrew will be ready. "We plan to slowly add days on, and add to the menu with specials. We need to do it slow, keep people safe and get it right."
A weekly treasure trove of tastiness, featuring reviews from restaurant critic Ian Froeb and how-to videos by food writer Dan Neman.