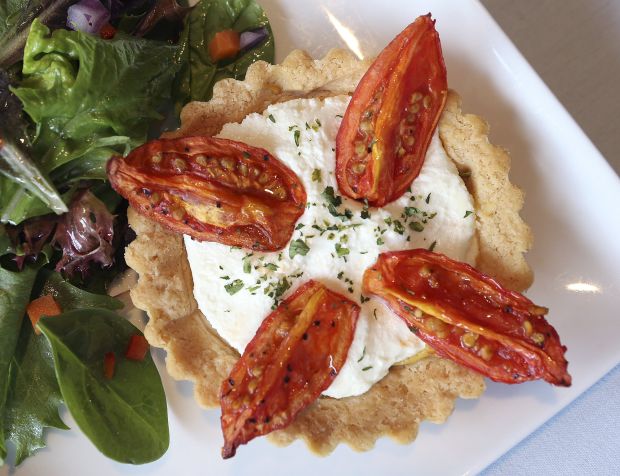 Q • Would Cravings share the recipe for its scrumptious tomato and goat cheese tart? — Betsy Gee, Chesterfield
A • Longtime baker and restaurateur Tim Brennan is puzzled. For 31 years, he's baked wedding cakes and other pastries for his bakery Cravings. But even people from Webster Groves, he says, forget that Cravings is not only a bakery but also a restaurant, even though his business has been in the same spot on Big Bend Boulevard for two decades.
Still, Cravings is a popular lunch spot and opens for dinner on weekends. On Fridays and Saturdays, Cravings becomes an intimate, convivial place filled with regulars attracted by specials circulated to Cravings' newsletter subscribers. The emphasis is on food — often inspired by Webster's Thursday-afternoon farmers market — and camaraderie. Brennan says, "Good food tastes better around good people."
Cravings' savory tart is served warm, a crisp, buttery crust filled with touches of mustard and red onion, a creamy pillow of goat cheese topped with slow-roasted tomatoes turned sweet and succulent. The menu includes another savory tart made with wild mushrooms.
Brennan says his savory all-butter crust is forgiving: it's mixed in a food processor and requires no rolling and little handling. He uses an artisanal goat cheese from Baetje Farms in Bloomsdale, Mo., and recommends meaty Roma tomatoes for year-round roasting. He's also happy when the tips of the tomato slices take on a little burn. "It's a Julia Child thing," he says. "It's for color, nothing should look anemic."
---
Cravings Gourmet Desserts
8149 Big Bend Boulevard, Webster Groves
Special Request is written by Town and Country resident Alanna Kellogg, author of the online recipe column KitchenParade.com and "veggie evangelist" at the food blog about vegetables, A Veggie Venture.