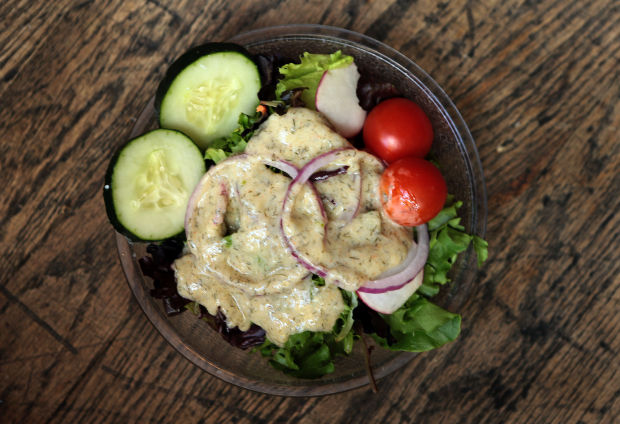 Q • I would love the recipe for Blueberry Hill's Spicy Cucumber Yogurt Dressing. — Nicki Massie, Belleville
A • Blueberry Hill is known for classic American bar food and is famous for all of its burgers, most recently for a Western Wagyu Burger, says Bob Waters, assistant manager at the landmark restaurant and music club in the University City Loop. The secret to burger success, he says, is "really good meat" cooked without seasoning.
You never know who'll turn up at Blueberry Hill. Waters says that even his boss, restaurant owner Joe Edwards, was impressed when actor Kevin Spacey came in, even though Edwards often rubs shoulders with celebrities. The Dart Room — where Blueberry Hill will host its 42nd annual dart tournament this weekend — is lined with photos of Edwards with famous people, from President Barack Obama to Kris Kristofferson. "You should see people's faces when Chuck Berry wanders in for a bowl of soup," Waters says.
Blueberry Hill makes several homemade salad dressings — Mayfair, Thousand Island, honey Dijon and the most popular, blue cheese — but Waters says diners like the Spicy Cucumber Yogurt Dressing because it's "just so different." He likes its "nice green color" and says spices make it tangy. The recipe originated with a low-fat cookbook about 25 years back, but it has been tweaked, especially to smooth the texture by removing the cucumber seeds.
One server liked the dressing so much that when she moved out of town, the restaurant gave her a large batch on her last day. Some customers use it as a dipping sauce for fries and fried mushrooms.
---
Special Request is written by Town and Country resident Alanna Kellogg, author of the online recipe column KitchenParade.com and "veggie evangelist" at the food blog about vegetables, A Veggie Venture.