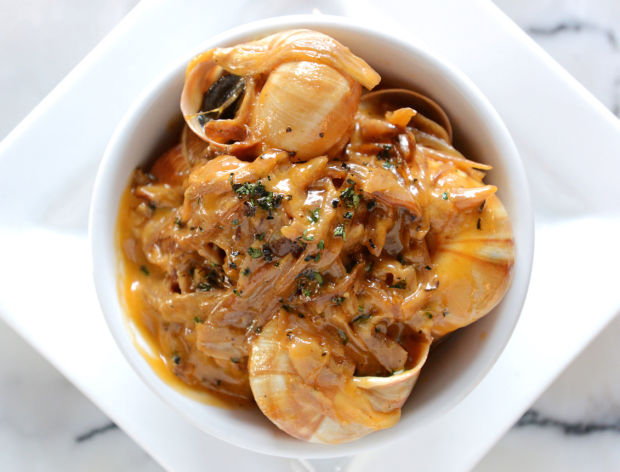 Q • The sauce on Franco's escargot is wonderful; I could eat it with a spoon. — Janetta Morgan, St. Louis
A • Just a half block from Soulard Farmers Market is Franco, the contemporary country-French bistro housed in the old Welsh Baby Carriage building, now a loft-retail development. During the growing season, executive chef Jon Dreja visits the market to take inspiration from local ingredients and develop relationships with local producers.
Dreja is Polish, but developed his instinct for French cuisine via stints at area country clubs and most recently, Vin de Set. He has imprinted his sensibility on Franco's menu since signing on in 2012 and is especially proud of changes made to the bistro's cassoulet, the classic French bean casserole. Twice a month, Dreja brings in half a pig to break down, using "everything but the squeak" for cassoulet, browning bones for stock, grinding a loose sausage, roasting beans wrapped in pigskin. "I love this," says Dreja, grateful to Franco's owner Tom Schmidt who allows such culinary freedom.
Dreja has also offered contemporary presentations of escargot, whose classic French preparation bathes the snails in warm garlic butter. Today, Dreja infuses butter with lobster and tarragon, creating a beautiful orange compound butter, then warms the escargot with caramelized onion and fennel, sherry and cream. Dreja says, "Why compete with the classics found at any French restaurant? I want to create something you can't find anywhere else." Diners respond, telling Dreja his preparation is the best they've ever tasted.
Special Request is written by Town & Country resident Alanna Kellogg, author of the online recipe column KitchenParade.com and "veggie evangelist" at the food blog about vegetables, A Veggie Venture.
A weekly treasure trove of tastiness, featuring reviews from restaurant critic Ian Froeb and how-to videos by food writer Dan Neman.