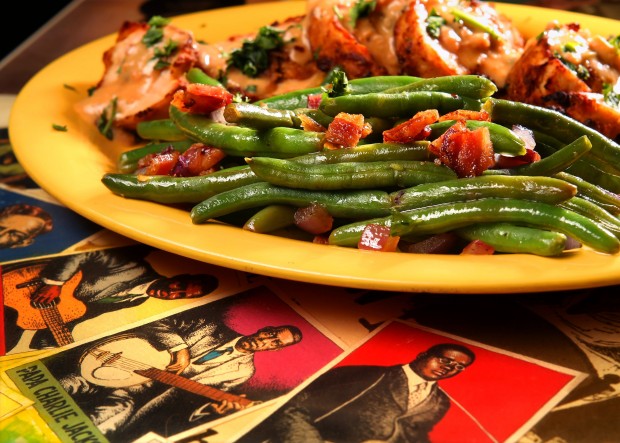 Q • We are frequent visitors to the Highway 61 Roadhouse and Kitchen in Webster Groves and absolutely love their green beans. We would love to have this recipe. — The Berry Family, Affton
A • Drivers traveling the legendary "Blues Highway" from New Orleans to northern Minnesota roughly parallel with the Mississippi River come right through St. Louis on Highway 61. "St. Louis and New Orleans are linked geographically, historically and musically," says Bill Kunz, who opened the Highway 61 Roadhouse in 2006.
The restaurant's menu is Kunz's interpretation of Cajun, seafood and barbecue. His Cajun isn't spicy, he says, but savory. "The flavors all work together. We hold true to a lot of tradition," including flying andouille sausage from New Orleans but buying pork from nearby farmers.
Music plays a role in Highway 61's menus, too. Appetizers are "opening numbers," pizzas are "12-inch discs" and hungry guests choose from 13 "B sides" when selecting their all-important Southern side dishes. The favorites are cheesy-crunchy mac 'n' cheese, cream corn soufflé and green beans.
Kunz developed the green beans to spite his mother who cooked green beans into a soft mush. In contrast, bite into Highway 61 Roadhouse's Green Beans and you'll hear a little crunch and taste a rush of green bean juice. The green beans are splashed with Worcestershire, a common ingredient in Cajun cooking, Kunz says. "Emeril even makes his own, a huge fermentation process."
Highway 61 Roadhouse will be featured in the Food Network's "Diners, Drive-Ins and Dives" with Guy Fieri (scheduled to air Dec. 10). Kunz grins about the national attention afforded his place, plus five other St. Louis restaurants and a food truck. "You work hard to do what you do and then wow, somebody notices."
---
Highway 61 Roadhouse and Kitchen
34 South Old Orchard Avenue, Webster Groves
---
Send the name and location of the restaurant and a description of the dish to RecipeRequest@post-dispatch.com. Restaurants featured in this column must be in the St. Louis area. Include your name and daytime phone number.
Special Request is written by Kirkwood resident Alanna Kellogg, author of the online recipe column KitchenParade.com and "veggie evangelist" at the food blog about vegetables, A Veggie Venture.