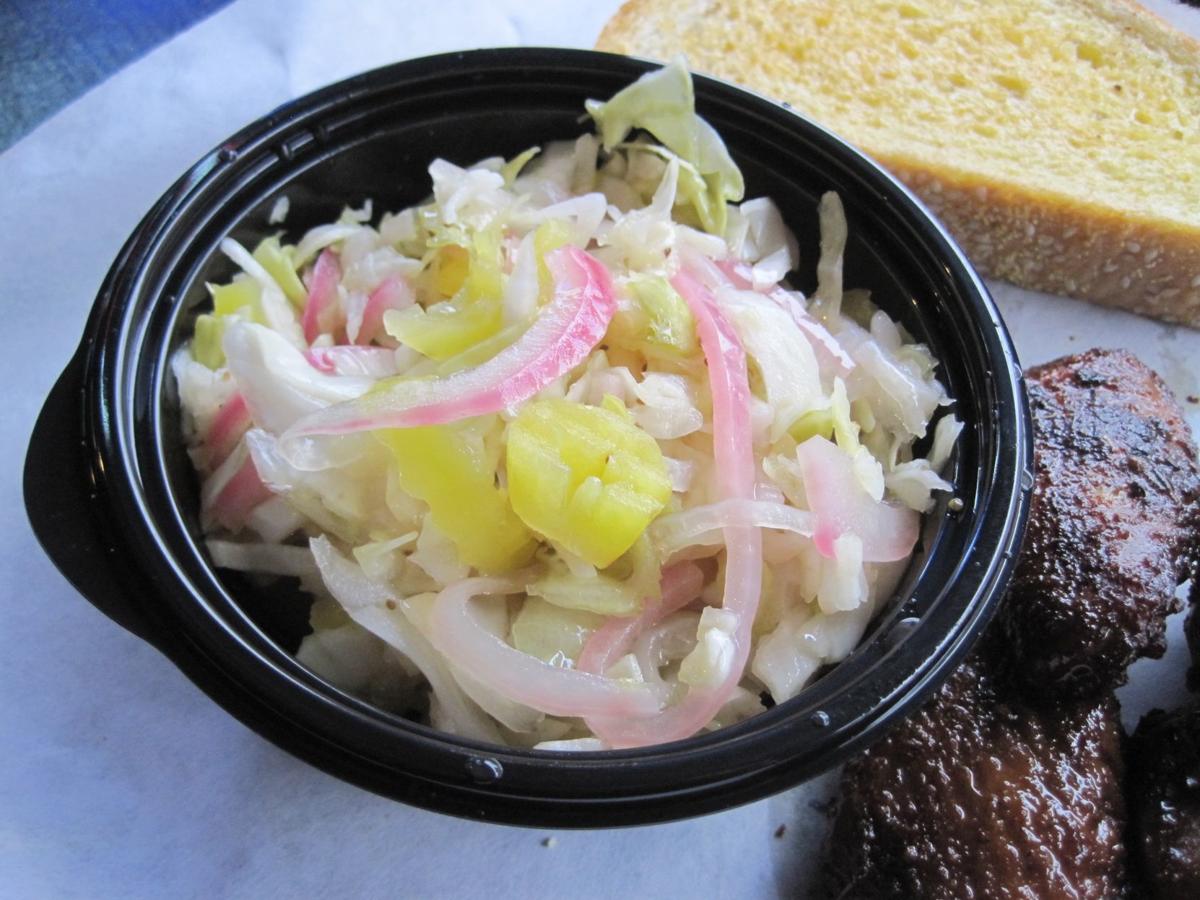 Q • I really enjoy the barbecue at Hogtown Smokehouse, but the vinegar slaw is by far my favorite side. Would they be able to share the recipe? — Shawna Mitalovich A • The old-fashioned vinegar slaw chef and co-owner Chris Muich makes today originated when a close friend shared the recipe for her grandmother's go-to coleslaw she served at the holidays. "You can tell it's old-fashioned because it uses bacon grease and celery seed — not something you see much today," Muich says.
This shredded green cabbage slaw relies on sliced hot banana peppers and julienned red onion for its bite. Celery seed contributes a piquancy to the dressing while the boiled vinegar, bacon grease and grapeseed oil bring the flavors together.
The zesty slaw pairs perfectly with the barbecued beef brisket, pork, chicken, turkey, sausage, pork steaks and ribs served up at Dogtown's only full barbecue restaurant and small bar. Hogtown has only been open since July, but Muich and co-owner Rico Lange worked for months prior to opening, building out the interior and the comfortable patio.
"We're definitely hands-on owners," Lange says. "I grew up in this neighborhood. Chris lives in Dogtown now. We are a neighborhood place." Muich and Lange met when the two worked at the now-shuttered Southtown Pub. Today, Muich uses his experience as pitmaster at Southtown Pub to run the kitchen and the smokers. Lange handles the front of house and catering side of Hogtown.
"We've got a great lunch and early dinner business," Lange says. The approachable menu also offers cooked meats by the pound perfect for a quick take-home dinner.
The two have also made a hit with their catering business. They've already catered corporate gatherings, large and small weddings, and intimate showers and birthday parties since their opening. "We've also closed the restaurant to cater special events in the evening," Lange says. "If people are interested in catering or in holding a holiday gathering at the restaurant, they can contact me."
For those who don't want to tackle the holiday feast, Muich will be smoking turkeys and brisket to order. The full catering menu will also be available. The drop dead order date for turkeys, brisket and holiday catering is Dec. 19.